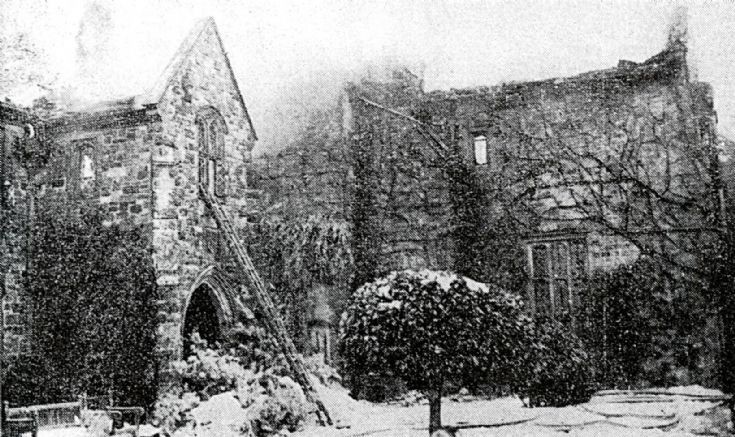 The Slaugham Archive
The disastrous fire of Nymans house
Handcross had already suffered two disastrous fires to local country houses, Handcross Park and High Beeches, during the previous twelve years, and in 1947 it was the turn of Nymans to suffer a similar fate.
When Colonel Leonard Messel inherited Nymans from his father, Ludwig, in 1915 the house was to all appearances a Victorian building, which indeed it was, having been built in 1890 by Ludwig. Many years later Lord Snowdon ventured to add that it was "absolutely hideous".
Soon after the end of the 1914-18 war, work started to replace the house with what was really a clever reproduction of a building that had originally been built in the 14th century but had been added to until the 16th century. It took some 10 years to rebuild the house occupying most of the 1920s.
It was said that any future historians and their ilk might well be deceived by it. Indeed, to prove the point, the heading of the newspaper cutting from which the above picture was taken refers to it as being an "Elizabethan mansion", making it about 400-years-old, which it clearly was not!
The fire started at 3.00am on 19th February 1947 following a snowfall, and with a bitterly north-easterly wind blowing.
First on the scene was PC Steve Message from Handcross, but there was little he could do to fight the fire on his own.
Select Large Version to view the full newspaper cutting.
View Large Version
Picture added on 29 April 2015 at 10:18
This picture is in the following groups
Nymans