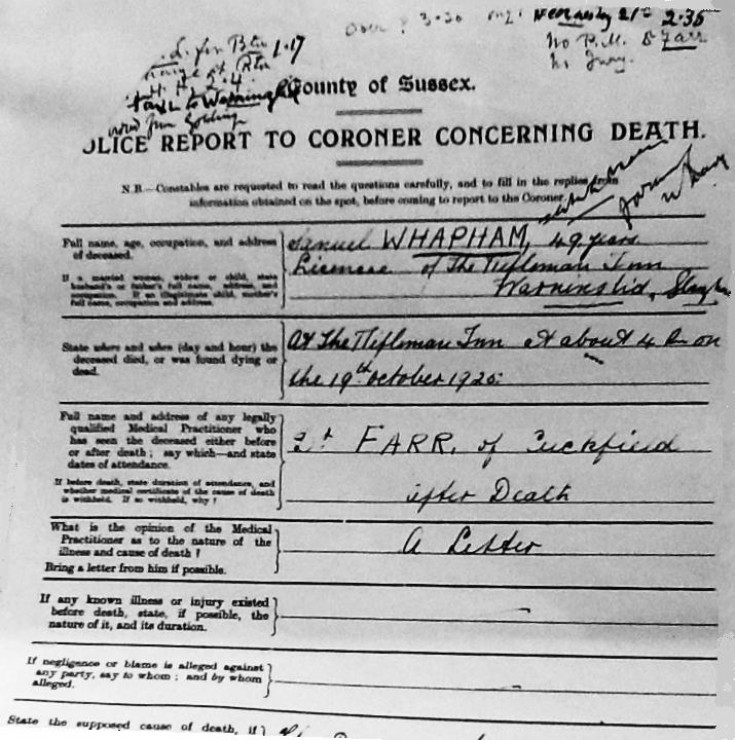 The Slaugham Archive
Samuel Whapham, Rifleman Inn (1 of 5)
The next five pages (Nos. 1504 to 1508) show a collection of documents associated with one of the saddest stories in the history of Warninglid. They relate to the death of Samuel Whapham, landlord of the Rifleman Inn, who became so depressed that he took his own life by violent means on 19th October 1925.
On 31st May 1916 he served in the Royal Navy during the Battle of Jutland on, it is thought, the battleship "HMS Malaya". The ship was hit eight times and took major damage and heavy crew casualties. A total of 65 men died in the battle or later of their injuries.
As events unfolded some years later it could be said that Samuel was yet another victim of the horrific battle which took place some nine years earlier.
These documents have been made available by Mrs Mary Underdown of Hove and I am very grateful to her for permitting them to be placed on the website.
She is having difficulty in finding where Samuel was buried, and would be grateful if anyone can assist her in her search. Samuel was her unmarried great-uncle and she would like to pay her respects by visiting his grave.
Select Open Document to view three pages of the Handcross policeman's report for the Coroner, followed by a transcript of the report.
Open Document
Picture added on 18 July 2015 at 16:16
This picture is in the following groups
People
Comments: