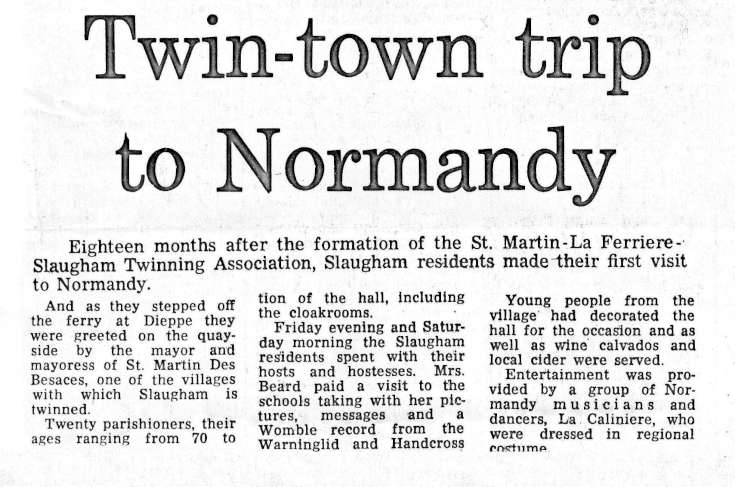 The Slaugham Archive
Slaugham Twinning first trip to France
The first Slaugham Twinning Association visit to Normandy took place in 1975 and it was prominently reported in the press.
Select Open document to view the full cutting and a promotional postcard of the folk group from Normandy who entertained us during the soirée held in the Foyer Familiale during the Saturday evening.
A video of the weekend can be found on
picture #669
, and a photograph of the signing on
picture #1200
.
Sid Beard took along a tape recorder and his recording can be heard by using the controls below.
Those speaking were: 0.00 Pierre Prunier (Mayor of St Martin des Besaces, 3.00 Roger de Panthou (local notaire), 3.30 Mme Jones (translating for M. Prunier), 5.05 Pierre Prunier and 6.50 Roger Ray (both reading aloud the Charter), 8.15 Sid Beard (commentator), 9.40 Roger Ray (with Helen Beard translating), 15.05 La Calinière (Norman folk group), 18.15 End.
The gift to the hosts was a painting of the Mill Pond, Slaugham by Alan Greenfield. In the newspaper cutting, Alan was described as being one of the instigators of the twinning association, and indeed it was he who made an undercover reconnaissance visit to St Martin des Besaces before any formal negotiations took place!
Open Document
Picture added on 26 July 2015 at 17:32