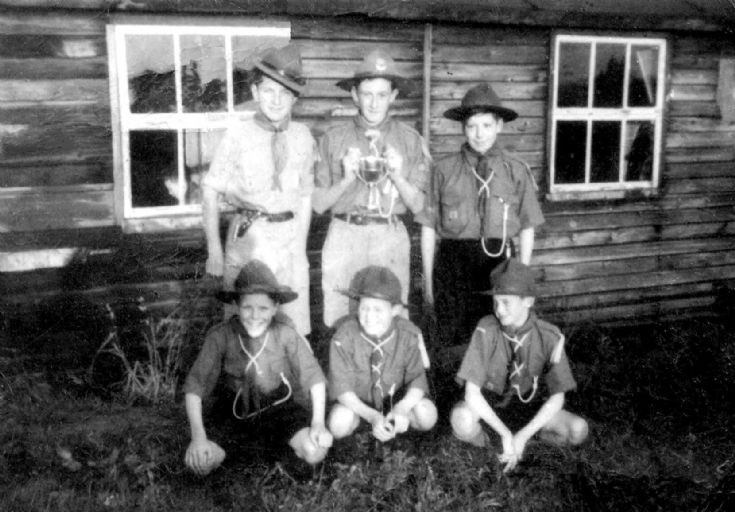 The Slaugham Archive
1st Slaugham Scouts win the Hardy Cup
Pictured are the six triumphant members of 1st Slaugham Scout Patrol which won the Hardy Cup at their first attempt. The picture was kindly supplied by Tom Chamberlain.
Back row: Gerald Cosens wearing his hat in a very jaunty manner, Ivor Verlander, David Mitchell.
Front row: Tom Chamberlain, Nick Boakes, John Vigar.
The quality is not good as the original photograph was extraordinary small, being 1.5" by 1" only!
The picture was taken outside the old scout hut located on the right, just beyond Southend Cottage in the Brighton Road, Handcross. It was erected in 1939 as an office for the engineer engaged in the construction of the new A23 bypass.
The work was suspended during the war years, but a few years after the end of the war the local vicar asked East Sussex County Council if the scouts could use it as their headquarters.
The Large Version includes a report on the status of the hut in 1950. The local vicar is named as Rev. Campion in error, as it was Rev. Aylmer Peter Cameron who served in the parish from 1946 to 1951.
In due course, the scout headquarters was moved to Handcross Park, but they had to vacate the premises when the building was sold to Whittinghame College.
I think it was at this time that a planning application was submitted to erect a scout hut "opposite the Red Lion Hotel, Handcross." I can only assume that the proposed site was the small parcel of land then used as allotments, which later became the location for the building of the two residences, Redburn and Belmont.
The hunt for a site for the HQ finally came to an end in 1958 when the president of the troop, Mrs Eveline Warren, kindly offered the use of the former thatched cricket pavilion on the Hyde Estate, which was to be shared with the local tennis club.
Select Open Document to read three newspaper cuttings relating to the history of the scout headquarters in the post-war period.
View Large Version
Open Document
Picture added on 25 August 2015 at 15:52