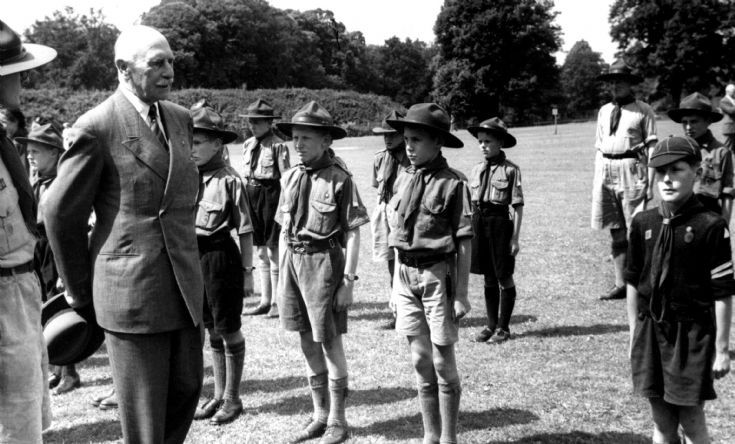 The Slaugham Archive
Scouts at British Legion fete
The Handcross and District British Legion organised a spectacular fete in the Recreation Ground in July 1950 with numerous sideshows, and a dramatic exercise in which the Light Anti-Aircraft Regiment tried to shoot down an Auster airplane which made many bombing raids on the visitors to the fete. It would have been more realistic if live shells and bombs were used, but perhaps that was beyond their budget!
The major event was a parade comprising scores of ex-servicemen from both World Wars, and contingents from the Nursing Association, Scouts, Guides and Cubs. The parade was inspected by the Earl of Athlone accompanied by Colonel and Mrs Warren.
The photograph shows the Earl of Athlone inspecting the scouts with Group Scoutmaster Dennis Foord-Brown on the extreme left, and Assistant Scoutmaster Sid Sargent at the back of the line up.
Between Dennis Foord-Brown and the Earl of Athlone is scout, Michael Lane.
The scouts in the front row are, from the left: Unknown, Jim Brown, Ian Hardern.
In the back row are: John Squires(?), John Vigar, Tom Chamberlain.
On the extreme right is cub, Ron Pateman, who is partially obscuring scout Robin Boniface.
Of great interest to those of us who grew up in Handcross during and just after WWII, in the background is one of three "lumps" which were placed in the two "dips" and which provided us with an adventure playground in the heart of the village. The lumps were large piles of earth resulting from the excavating of the cuttings, north and south of the Horsham Road, to provide a bypass of the A23 through Handcross. The work was suspended when war was declared and not re-started until the 1950s. See
picture #1301
.
The Large Version shows a close up.
View Large Version
Picture added on 26 August 2015 at 10:28
Comments: