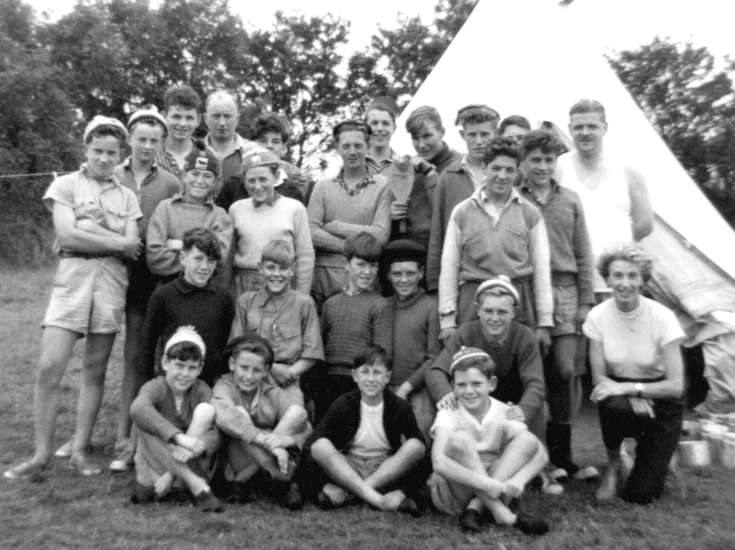 The Slaugham Archive
Scout camp at Branscombe, Devon
Members of the 1st Slaugham scouts gather outside a bell tent for a photograph during their annual summer camp in Branscombe, Devon. And, yes, we did have more than one tent!
The Large Version shows a numbered version.
Those pictured here are: 1 Lionel Copeland, 2 Dennis Johnson, 3 Barry Ray, 4 Rodney Pattison, 5 Sid Sargent (Cubmaster), 6 Ron Verlander, 7 Terence Marshall, 8 Bill Boxall, 9 Tom Chamberlain, 10 Mick Pateman, 11 Colin Boniface, 12 Ronald "Chubber" Newman, 13 Chris Johnson, 14 Norman Leppard, 15 John Edmunds (Guest scoutmaster), 16 Dennis Hotten, 17 ??, 18 Graham Pateman, 19 Derek James, 20 David Knape, 21 Mrs Edmunds, 22 Andrew Wickham, 23 John Boniface, 24 Roy Sargent, 25 ??.
Please can anyone identify those not named?
Another almost identical photograph can be viewed by selecting Open Document. David Knape is missing from this picture and perhaps he used his camera. Likewise, Andy Sargent is in the middle of the front row of this picture as he took the main photograph. Group Scoutmaster Dennis Foord-Brown also appears just to the left of Mick Pateman.
View Large Version
Open Document
Picture added on 28 August 2015 at 09:53
Comments: