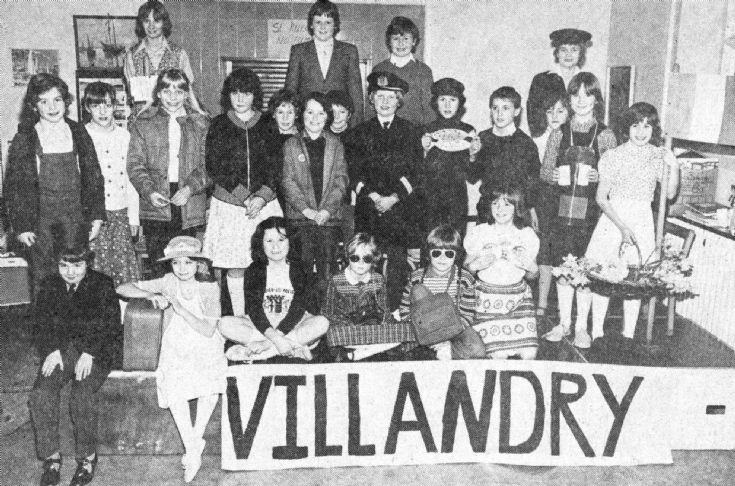 The Slaugham Archive
Warninglid school trip to France
In March 1982 a party of 21 children from Warninglid school made a three-day trip to Dieppe where they visited a chateau, a museum and a market. They were encouraged to try speaking in French whenever possible.
They returned to England on the ferryboat "Villandry" and immediately set to work on producing booklets, models and other artwork to record their trip. They also put on a play as can be seen from the stage clothing above.
This culminated in an evening's entertainment with a French flavour for the parents' enjoyment.
With many thanks to Don and Yvonne Sinclair for their assistance in identifying the pupils.
The Large Version shows a numbered photograph.
1 Juliet Matthews, 2 Sandra Smith, 3 Tina Rogers, 4 Joanna Ogden, 5 Lucy Thompson, 6 Nicholas Forsyth, 7 Janette Larkins, 8 Jason Slater, 9 Paul Williams, 10 Neil Humphries, 11 Richard Postil, 12 Pelham Graves?, 13 Darren Holt, 14 Tracey Edwards, 15 Elizabeth Postil, 16 Nicola Baillet, 17 Karen Matthews, 18 Mark Elves, 19 Alison Williams, 20 Tiffany Pearce, 21 Melanie Cherry, 22 Lisa Holt, 23 Alison Gibson.
Select Open Document to view a newspaper cutting of the event followed by a report on the trip by Tiffany Pearce. Those mentioned include Fraser, Juliet, Karen, Tina, Lucy, Janette, Fiona, Melanie, Mrs Jenkins, Mr and Mrs Sinclair, and Madame Poulet!
Not to be missed is the story of the dramatic storm, and the frantic incidents experienced by the children, much in the style of a Brian Rix farce!
View Large Version
Open Document
Picture added on 03 September 2015 at 20:34