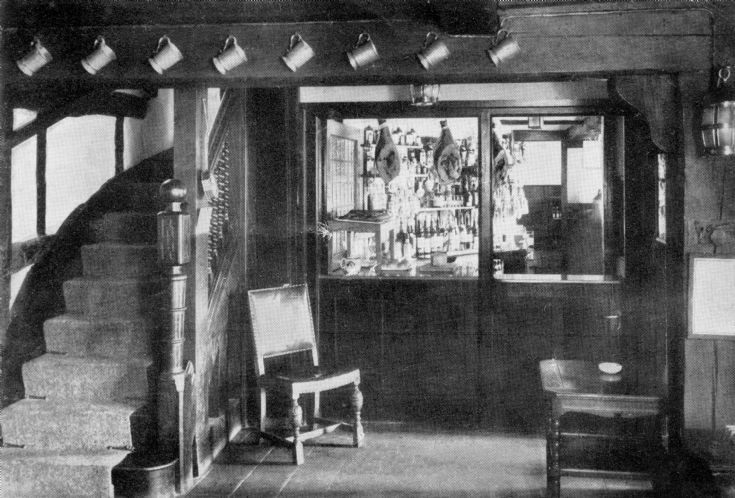 The Slaugham Archive
Red Lion in Handcross promotional booklet
The photograph is taken from a promotional booklet issued by the Red Lion in Handcross, probably soon after it was taken over by Tamplins Brewery of Brighton and its modernisation in 1937.
The picture shows the entrance hall with a view of one of the bars beyond.
Select Large Version to view a part of the kitchen with two large Aga cookers and a young member of the kitchen staff standing awkwardly for the benefit of the photograph.
The complete booklet can be viewed by selecting Open Document. It is worth a read even if only for the splendid flowery language used by persons in the advertising world.
Historical references are a little suspect at times including "Built 14th Century", "Medieval modernity", and "Nelson halting there on his way to Trafalgar".
Looking around the interior of the building only enforces the tragedy that befell the hotel in 1978 when the majority of the wood panelling and ancient beams, together with the old-fashioned charm, were destroyed in a fire.
Even the telephone number of Handcross 40 had a certain ring to it!
Another earlier booklet issued by the hotel can be viewed on
picture #566
.
View Large Version
Open Document
Picture added on 13 October 2015 at 16:57