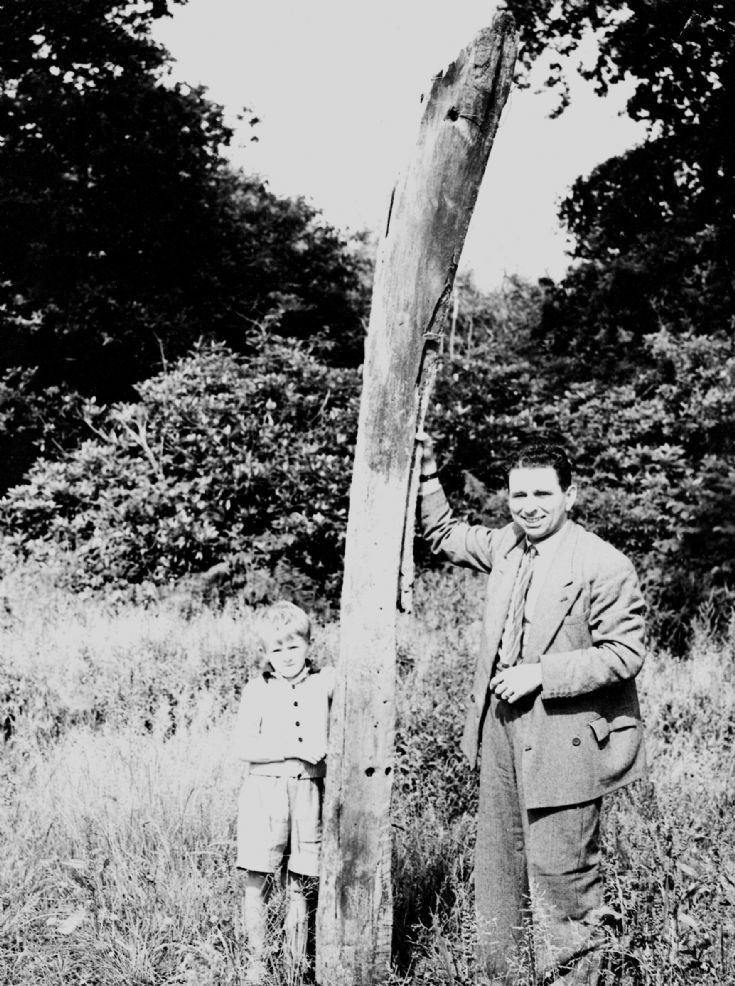 The Slaugham Archive
Whalebone Lodge, Pease Pottage (1 of 2)
Whalebone Lodge stood for about 100 years on the east side of the old A23 at the top of Pease Pottage Hill until it was demolished as part of the road widening scheme to convert the A23 from single to dual carriageway.
In 1955 my father, Roger Ray, and my brother, Laurence, visited the site and discovered one of the whalebones which had decorated the front porch of the lodge.
The photograph appeared in a Crawley newspaper and the accompanying article can be viewed by clicking on Large Version.
Select Open Document to view a map of 1874 which shows Whalebone Lodge broadly halfway between the Black Swan and, on the right, Hardriding, then known as Bellevue Farm. The road between the Black Swan and the lodge is now a no through road called Old Brighton Road North.
Other than this road and a handful of buildings there is little else on the map except trees and fields. In contrast, the Document also shows a present-day aerial view of this part of Pease Pottage with the Black Swan in the lower left corner and Hardriding in the upper right. There is a belt of trees between Old Brighton Road North and the slip road leaving the M23, and I suggest that the site of Whalebone Lodge was at the north end of this copse very close to the turning area on the old road. The turning area can just be identified by a small white triangle.
Is the other whalebone still laying in the bushes?
At the time of writing (October 2015) there is a planning proposal to build a development of 600 dwellings, primary school, care home, retail centre, and community centre on 110 acres bordered by Parish Lane to the south, the service station to the west, and the motorway to the north. It seems that this aerial photograph will soon be out of date with all the land and woodland on the right of the picture, together with as much again further to the east, being developed.
The story of Whalebone Lodge continues on
picture #1580
.
View Large Version
Open Document
Picture added on 22 October 2015 at 15:42