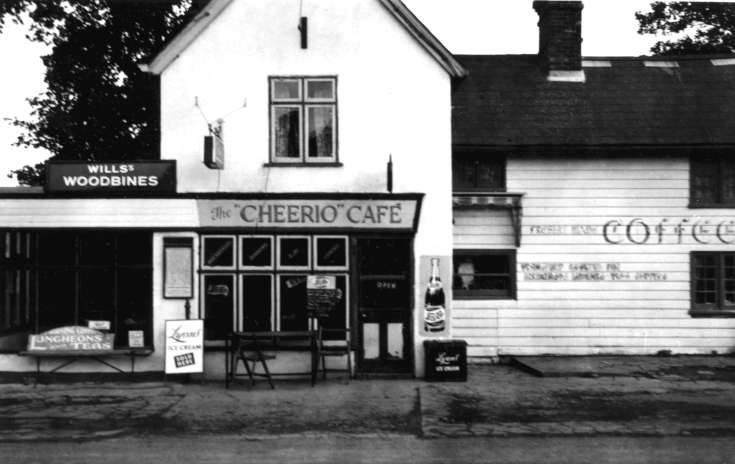 The Slaugham Archive
Council report - Pease Pottage businesses (1 of 5)
In 1950 the Planning Department of the Cuckfield Rural District Council prepared a detailed survey and report into the string of mainly commercial buildings from the junction of Parish Lane heading southwards for a distance of about 170 yards. I can find no mention of why the report was commissioned but no doubt it played an important role in the imminent diversion of the A23 away from the heart of the village into a cutting a short distance to the east. As can be seen, the A23 trunk road was then a single carriage road, and its replacement would be widened to a dual carriageway.
The whole package comprised two typed reports and a bound folder of 22 photographs of the buildings. The photographs are only 3"x2" in size and vary in quality from poor to even worse! The whole will be uploaded to the website condensed into five pages.
It is opportune that this is being uploaded at a time (December 2015) when planning is being considered for 600 dwellings, a care home, and a school at the junction of Parish Lane and the A23/M23. However, the location of THAT junction is some 300 yards to the east, where Parish Lane now starts.
The photograph shows the Cheerio Café, complete with bus timetables, located right on the junction. What could be better than to make use of the table and chairs outside to smoke a Wills's Woodbine and eat your Lyons ice cream whilst watching the traffic on the A23 just six feet away! Not recommended nowadays.
Every café on a trunk road has a car park to offer its customers, and the Cheerio Cafe is no exception. Click on Large Version to view the car park, but watch out for the front axle!
One of the two reports covered past instances of planning permissions applied for on the site since 1910. Predominantly, these comprised applications by local entrepreneur, Mr. Joe Smith.
Select Open Document to view the report. Don't forget to use the plus and minus symbols to zoom in or out.
View Large Version
Open Document
Picture added on 31 December 2015 at 21:08