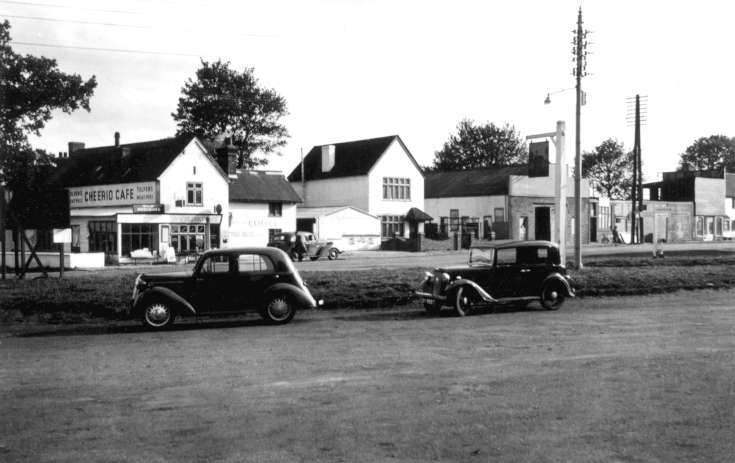 The Slaugham Archive
Council report - Pease Pottage businesses (2 of 5)
The photograph was taken outside the Black Swan and shows a general view of the properties to the south of the junction with Parish Lane which can just be glimpsed on the left under one of the two pub signs.
Select Large Version to view a map of Pease Pottage from 1958, which shows Parish Lane joining the A23 in the heart of the village next to the Cheerio Café. However, the map is somewhat out of date as the café is still marked as the Post Office (P.O.), which had already moved to Tilgate Forest Row in about 1925! See
picture #166
.
Just to the north of the Mission Church, more often called the Tin Church, is The Grapes pub with its parking area in front.
Opposite The Grapes is Claude Weller's small wooden florists shop with a pull in for parking.
Select Open Document to view a report of a survey of business users located in the strip of properties to the south of the Parish Lane junction. Persons named in the report are Mr F. M. E. Davies (who has a poor memory!), Joe Smith, Mr W. Hall, Joe Verlander, Claude Weller, and Mr J. Clayton.
View Large Version
Open Document
Picture added on 31 December 2015 at 21:22