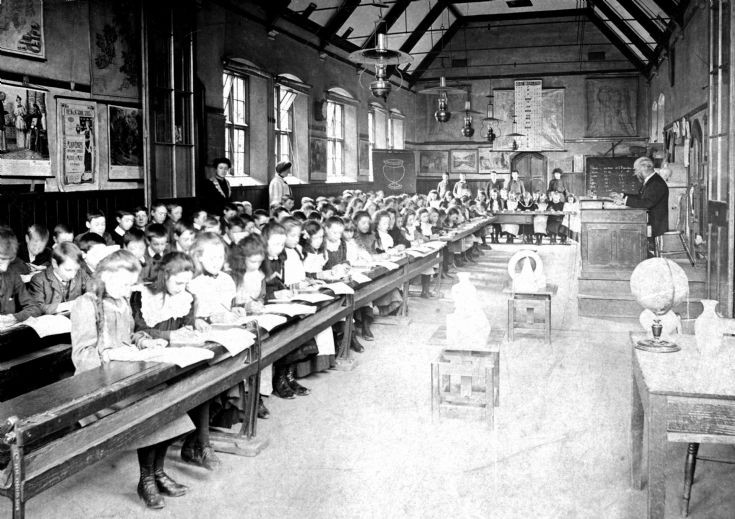 The Slaugham Archive
Handcross School early interior photograph
This is an unusual photograph of Handcross School in that it dates back to about 1900 and has been taken inside the classroom, presumably with the aid of flash powder. Whilst the flash and smoke would have been very exciting for the children, it produced an uneven intensity in the image.
Actually there were two classrooms in the picture as the folding dividing partition can be seen on both the left and right. From my experience of the school in the 1940s and 1950s the partition wall was rarely opened as it is in the photograph.
On the right is the headmaster, Mr James Albert Edwards, who served at Slaugham School from 1870 until it closed in 1878, and at Handcross School from when it opened in 1878 until his death in 1907, aged just 59. Details of his moving funeral at Slaugham can be seen at
picture #576
.
Also in the picture are three lady teachers, one of whom is almost certainly the headmaster's wife, Mrs Hannah Edwards, who was variously described as needlework teacher and sewing mistress.
It seems that a serious examination is taking place and, with various ornaments on stands, perhaps they are drawing still-life pictures, although I doubt that those not in the front row would have much of a view!
When this picture was taken an electricity supply was still a couple a decades away and a row of brass paraffin lamps with large tin shades provided the only artificial illumination. When required the lamps were lowered by ropes passing over the metal stays and securely fixed to the walls.
On the far wall is a chart depicting the Tonic-Solfa used as an aid to sight-reading in the music lessons.
The Large version shows a close up.
Click on Open Document to view two other cropped images of the same photograph.
View Large Version
Open Document
Picture added on 12 January 2016 at 11:46
Comments: