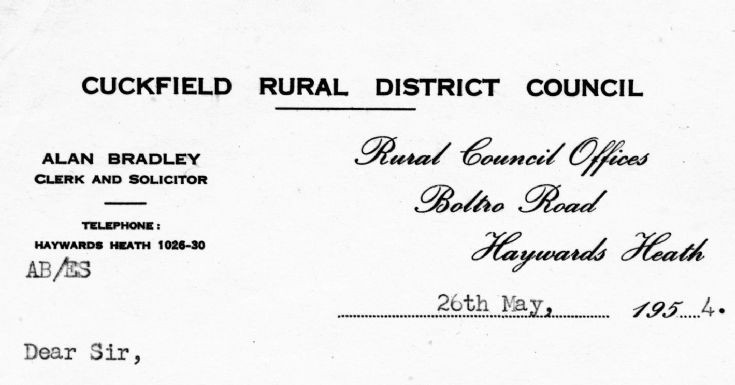 The Slaugham Archive
Staplefield cricket club's sight screens
In 1954 the Staplefield cricket club sought permission from both the parish and district councils for the erection of sight screens on The Common.
Click on large Version to see the councils' reply sent to the club secretary, Henry Guy "Gerry" Ray.
Gerry was also club captain for the 1954 season as can be seen by selecting Open Document to view the Fixtures Card.
The winter tour of 1953/54 by the MCC was to the West Indies and, according to many commentators, turned out to be very controversial, second only to the "Bodyline" bowling tactics used by the MCC on their tour of Australia in 1932/33.
The West Indies won the first two tests and ill feeling on both sides was running very high by the time of the third test in Georgetown, Guyana. Thus it was a major event throughout the country when the MCC won that test and Gerry Ray's patriotic act of flying the Union Flag on the club's flagpole was applauded in one of the national newspapers. The MCC went on to draw the series 2-2.
Shortly before the 1954 season started, the annual meeting of the club was held and a cutting reporting on the matters discussed is attached. The headline news was that John Robins had decided to resign as captain after serving in that office for the previous 22 years.
View Large Version
Open Document
Picture added on 01 February 2016 at 19:55
Comments: