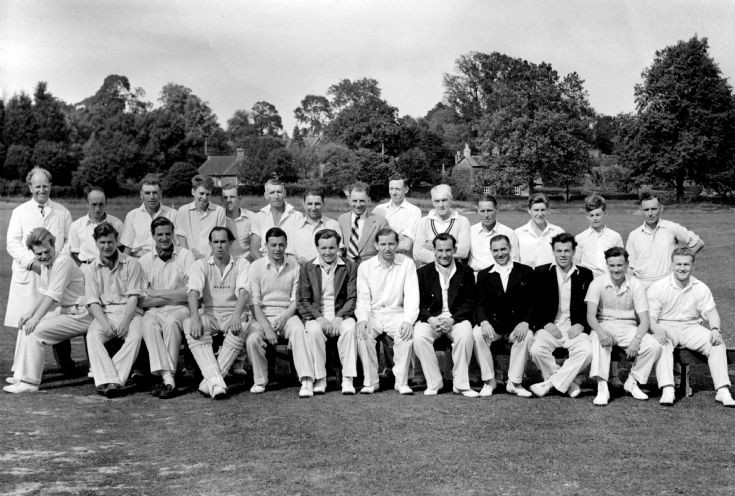 The Slaugham Archive
Staplefield cricket club v. E. G. Slesinger's XI
One of the traditional events in the Staplefield cricketing year was the match against a team assembled by one of the club vice-presidents, Mr. E. G. Slesinger. In 1955 the match was held on 10th July and the Mid Sussex Times sent along a photographer to record the event. Observant viewers will have noticed that there were more people in whites than is usual as both teams played with 12 players!
Staplefield batted first and scored 127 for 8 in their allotted time. Top scorers were John Robins with 36 and Rex Ray 30. The vice-president's team responded with 141 for the loss of 4 wickets. In the photograph the Staplefield players standing at the back are, from the left:-
George Prevett (Umpire), Tom Cave, Jack Honey, Rex Ray, Bob Sayers, Charlie Pennifold, Roger Ray, Gerry Ray (non-playing captain), Harold Morley, John Robins, Les Pateman, Ron Pateman, Simon Rufus-Isaacs, Joe Ray.
Of the opponents, I can only recognise second from the left, Colin Ingleby-Mackenzie, who played for Hampshire 1951-1966, and captain from 1958 to 1965.
The Large Version shows a close up.
Select Open Document to view various ephemera from the year 1955, firstly a newspaper cutting of the annual pre-season meeting. I wonder how many of the cricketers turned up to chat to the Archdeacon and enjoy a nice cup of coffee!
Second is a cutting of a limited-over inter-club match between the Over-40s and Under-40s. The Oldies were victorious despite having two players in their 70s, and received a cup from Mrs Bodell, landlady of the club headquarters, The Jolly Tanners Inn.
Next follows a cutting from a low-scoring match against Crawley factory team, APV, followed by a cutting in which Roger Ray appeals for an umpire for the club.
The final item is the Fixtures Card for 1955.
View Large Version
Open Document
Picture added on 03 February 2016 at 09:40