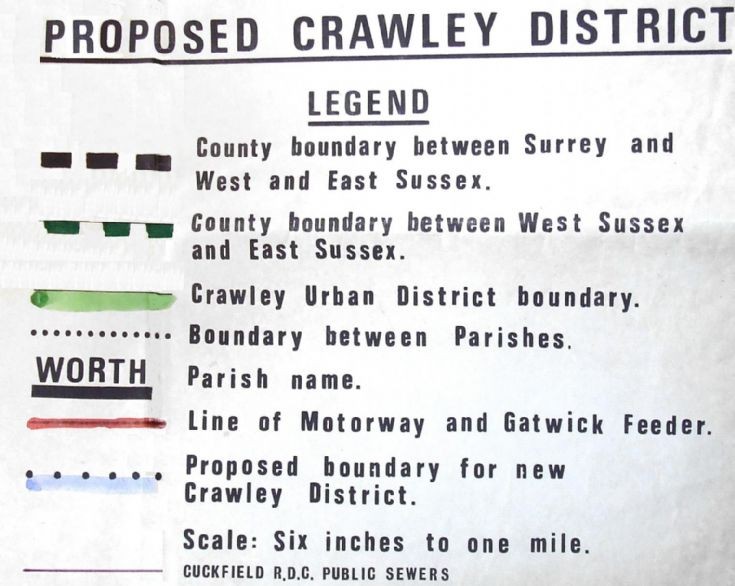 The Slaugham Archive
Crawley plans for Pease Pottage
This map from the 1960s has been entitled ominously "Proposed Crawley District" and, for many people, illustrates the expansionist views of the Crawley Council in those years. When the New Town was proposed everyone was under the impression that Crawley would end at the bottom of Pease Pottage Hill and that there would always be a clearly-defined forested Green Belt between the New Town and Pease Pottage.
Select Open Document to view the southern portion of the map which includes Pease Pottage at the bottom left, and the new Thomas Bennett School and the new district of Tilgate at top centre.
The proposed route of the M23 is clearly shown in red with Pease Pottage's very own "Spaghetti Junction" at its junction with the A23.
The boundary denoted by large green blocks was the former county boundary between West Sussex and East Sussex. The Slaugham Parish was transferred to West Sussex in 1974.
The lime green boundary was the then Crawley Urban District Boundary.
The most controversial boundary is that coloured pale blue which denoted the "Proposed Crawley District", which at a stroke would transfer most of Pease Pottage to Crawley, but, puzzlingly, exclude the residences around Tilgate Forest Row.
I wonder if these plans are still in the "in-trays" on the desks at the Crawley Borough Council!
Open Document
Picture added on 05 February 2016 at 15:27