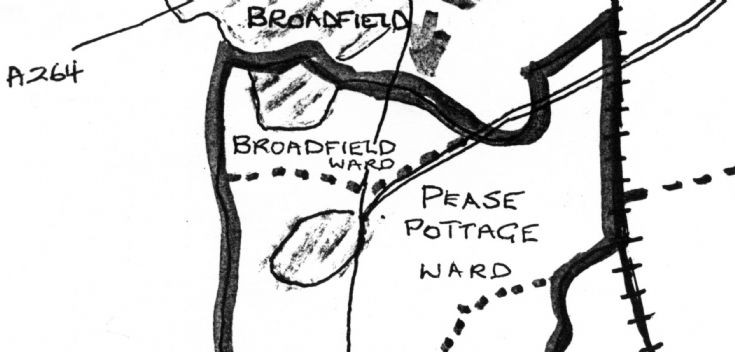 The Slaugham Archive
Broadfield located in Slaugham Parish!
In the 1970s Crawley continued to expand and it came to the turn of the new district of Broadfield to be built partly on land located in the north of the Slaugham Parish, and therefore within the area under the jurisdiction of the Mid Sussex District Council.
Against the wishes of the Slaugham parish councillors, it was decided by the district council and the urban council of Crawley that the boundary would remain where it was. Perhaps it was more of a financial decision whereby the general rates would be collected by the Mid Sussex District Council.
In the 1979 district council elections the voters in a large part of Broadfield found that they could only vote for candidates for the Mid Sussex District Council and not the Crawley Borough Council much to their annoyance. In the event, 126 voters decided to vent their anger by spoiling their voting papers.
Many years earlier, I can well remember my father Roger Ray, district and parish councillor, receiving an official letter which gave predictions of the population of the various parishes making up the area covered by the Mid Sussex District Council.
Before Broadfield was built the population of the Slaugham Parish was around 1,700, but the letter contained the news that the population of this rural parish was projected to rise to about 18,000 within the next few years! Once my father had stopped coughing and sputtering his way through his cornflakes, he telephoned the council offices to be reassured that appropriate boundaries would be changed to obviate any problems. Obviously these changes did not happen quickly enough for the 1979 elections.
For the parish council elections, due a few weeks after the district council elections in 1979, four wards were introduced, being Broadfield, Pease Pottage, Handcross/Slaugham, and Warninglid. Before Broadfield was built the total number of parish councillors had been 13, but under the new system a ward system was introduced whereby Broadfield was allocated 8 seats, Pease Pottage 2, Handcross/Slaugham 6, and Warninglid 2. Much to the relief of everyone, no residents from Broadfield offered themselves as a candidate!
I am pleased to report that the boundary was changed before the next round of elections so that Broadfield was transferred formally to Crawley.
The Large Version shows a map of the wards introduced in the parish.
Choose Open Document to view two newspaper cuttings with Slaugham grapping all the headlines! Also shown is the formal poster advising the public of the allocation of seats within the wards of the Slaugham parish.
View Large Version
Open Document
Picture added on 05 February 2016 at 19:35
This picture is in the following groups
People