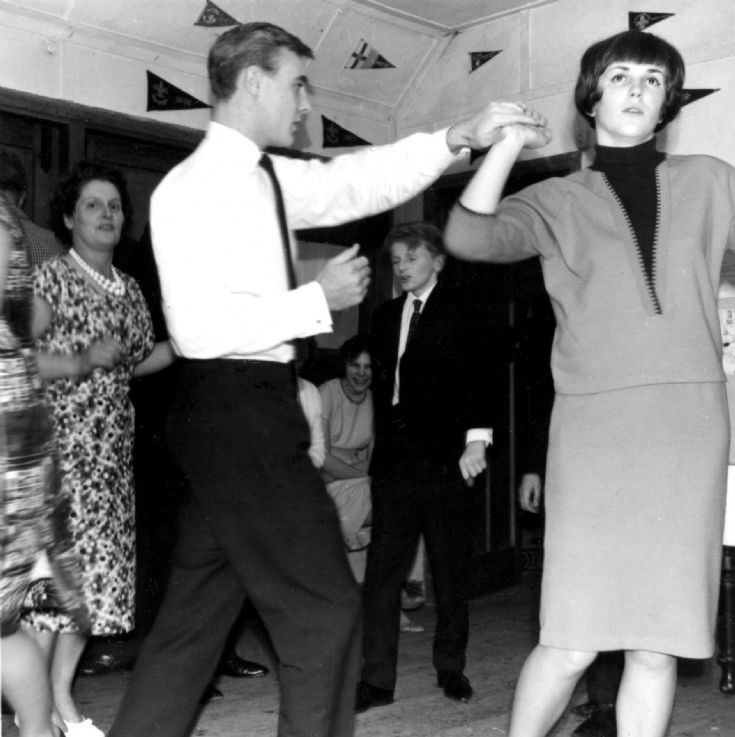 The Slaugham Archive
Dances (5 of 6) - Tennis club social evening
In 1964 the Handcross tennis club held a social event in their headquarters on the Hyde estate. The building was shared with the 1st Slaugham scouts who have decorated the ceiling with pennants.
Showing fine skills with their jiving are David Knape and Janet Housby. On the left is Lil Snelling, and seated is June Bailey with Raymond Trickey passing by.
A group photograph of the event can be seen at
picture #1407
.
The Handcross Sports and Social Club has been a prominent feature in the village since the 1930s and many of the sports clubs were run under the auspices of the club. However, on this occasion I have mentioned the club as the committee provided a separate room for the village youths. The room was devoid of any furniture whatsoever, but it included the first jukebox ever to be seen in the area. It was a circular machine with a covering of multi-coloured perspex material and held a dozen 78rpm records, playable on one side only! It cost 3d (1¼p) a play and, when a record was selected, all 12 records were lifted up on the central spike and were released one at a time with quite a loud bang until the one selected was on top ready for the arm to swing across. I recall that the most-played song was from 1958 and called "Rock O' My Soul" by Lonnie Donegan M.B.E. (1931-2002).
With only twelve songs to listen to, a more modern Rock-Ola jukebox was installed which had about sixty 45rpm records and which could be played on either side. The cost was 6d (2½p) a play, or three plays for 1/- (5p).
The Large Lersion shows a Social Club membership card from 1978. Select Open Document to view cards for the years 1961 and 1968.
The Chequers Inn in Slaugham went one better and installed a video jukebox which had a small selection of artists performing their hits. I particularly remember Acker Bilk and "Stranger on the Shore". With a severe lack of replacement videos forthcoming the machine was consigned to the garage where for many years it could be glimpsed if the doors were left open.
View Large Version
Open Document
Picture added on 17 February 2016 at 19:37
Comments: