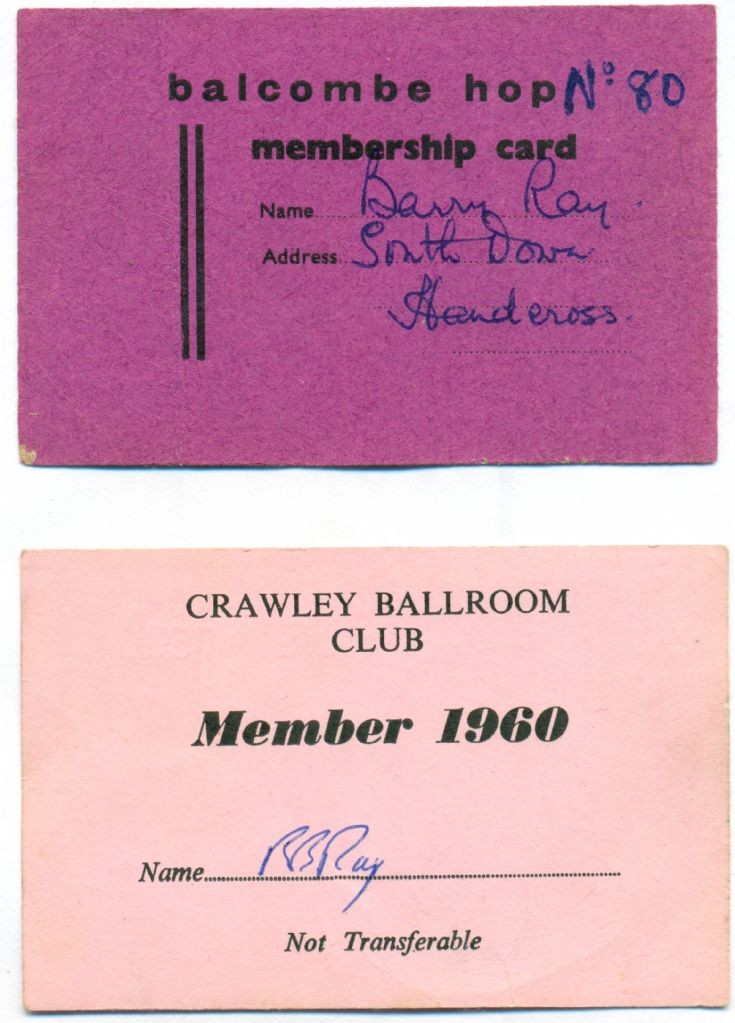 The Slaugham Archive
Dances (6 of 6) - Dance membership cards
As the youth of Handcross gradually acquired motorbikes or even cars they travelled to other venues which featured "Pop" music or "Trad" jazz, to the exclusion of ballroom dancing.
One of the earliest was the Balcombe Hop held every Saturday night which was run by Mrs Squires and her daughter, Ann. The entrance fee was 6d and music supplied by a record player, probably a "Dansette". I was fortunate in owning a 150cc Triumph Terrier motorbike but at the time my friends only had bicycles. All was not lost however, as I drove at a steady speed with a cyclist hanging on to my shoulder, and another cyclist holding on to the first cyclist, and so on!
Another favourite venue was "Leon's" in Queen's Square, Crawley, held every Sunday night. The dances, either pop music played on a record player or live groups, were run by the Crawley School of Ballroom Dancing. They operated on the first floor above a ladies fashions shop called "Leon" which gave rise to its nickname.
The Chinese Jazz Club operated at a first floor function room at the Railway Hotel, Crawley. There were dances there Saturday nights with live pop music, or traditional jazz bands.
Somewhat farther afield was the Teenbeat Rock Club held at the Market Hall on the crossroads in the middle of Redhill. The dancing was to live pop groups, featuring many who were fairly well known. Screaming Lord Sutch is one I particularly remember, who, under his real name of David Sutch, ran for parliament 39 times without ever coming close to being elected! He committed suicide in 1999, aged 58.
Click on Large Version to view two membership cards; one mine, and one my wife's.
View Large Version
Picture added on 17 February 2016 at 19:44