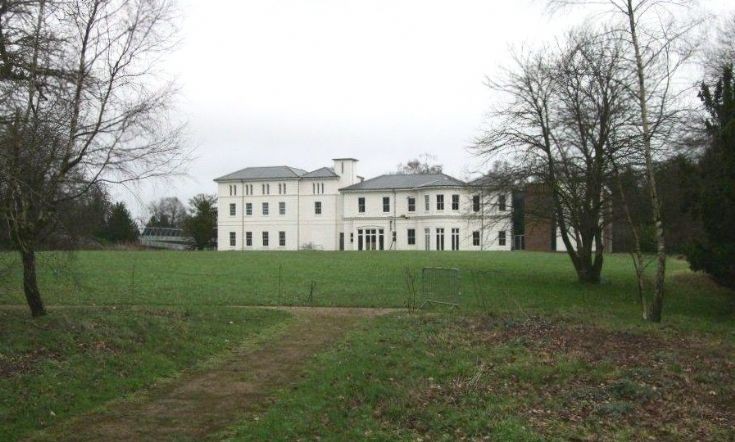 The Slaugham Archive
Woodhurst - Where have all the flowers gone?
This is the first of several photographs taken in 2016 of Woodhurst in Pease Pottage to illustrate how the exterior of the large country house has changed over the last 90 years.
The picture above shows the rear of the house with the garden looking well-tended but devoid of any flower borders.
Just to the left of the house can be seen the pedestrian bridge, with sloping access ramp, which straddles the eight lanes of the A23 and B2114.
The property has now been fully refurbished and, with a brand new annex built in the grounds, is now owned by Sussex Health Care. Its purpose is to provide a facility for people with long-term health problems.
The Large Version shows a map of the location dating from 1909. The long extension to the south of the house contained a conservatory, peach house, and vinery, all of which no longer exist.
Some 200 yards southwest of the house can be seen the circular Lily Pond, and about 250 yards south of that is the Fish Pond complete with boat house.
Select Open Document to view three pictures from 1928 taken by members of the Mountain family who owned the house and were responsible for creating the extensive and varied pleasure garden. The first two pictures show the rear of the house with two people sitting in the shade. The third picture shows a view of the lawn with flower beds looking from the rear of the house.
Another view of the rear of the house from 1960 can be seen on
picture #1000
.
View Large Version
Open Document
Picture added on 04 March 2016 at 16:39
This picture is in the following groups
Woodhurst