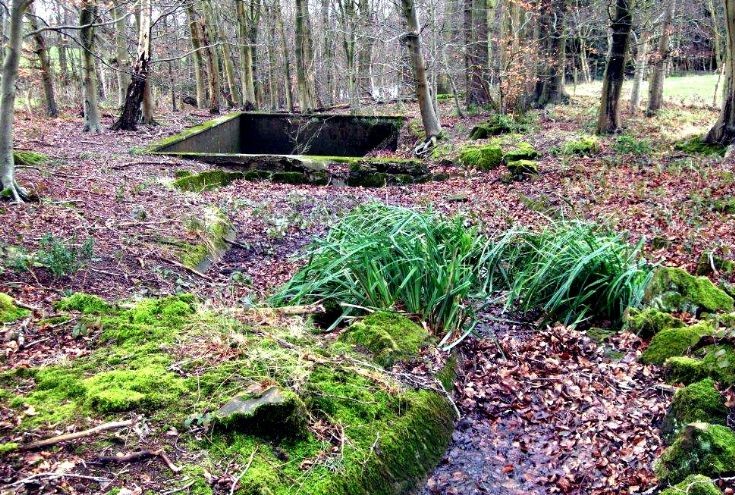 The Slaugham Archive
Woodhurst - The disappearing rock garden (1 of 2)
This photograph of February 2016 was taken about 40 yards from the Lily Pond at Woodhurst, heading southwards towards the Fish Pond. (See the map attached to
picture #1679
) It seems fairly clear that the stones and water in the foreground are part of the now neglected landscaping carried out in 1930 during the ownership of Woodhurst by Arthur and Beryl Mountain and their garden staff.
However the mystery concrete construction beyond is not marked on any map and nor does it appear in any of the old photographs of the garden. Suggestions as to its use have included a swimming pool, a fish nursery to stock the lake, and an artificial fish pond to supply the kitchen. The Fish Pond can be glimpsed through the trees beyond the concrete object.
The Large Version is from 1930 and shows the view from the Lily Pond towards the rock garden.
Select Open Document to view five photographs from 1930 of the newly-built rock garden which included a water feature. The water is thought to have flowed through the mystery concrete structure, and onward to the Fish Pond.
The first two photographs are described as the "New rock garden", the next two as being "Rock garden looking more finished", and the last as "A very gay bit of rock garden".
View Large Version
Open Document
Picture added on 04 March 2016 at 16:41
This picture is in the following groups
Woodhurst
Comments: