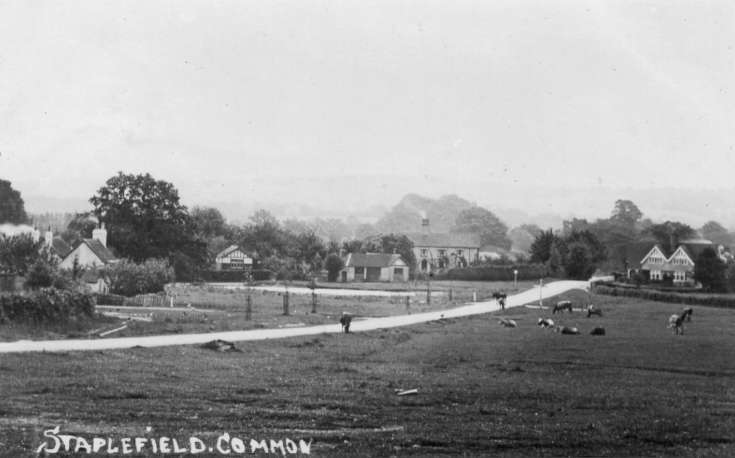 The Slaugham Archive
Cattle on Staplefield Common
A hundred years ago the Common was used by the local cricket team, but they had to share it with the cattle owned by a local farmer who, presumably, had commoner's rights to graze his cattle. There are eight cattle on the grassland and another three on the road; possibly useful as a traffic-calming measure today!
On the left is the entrance to Tanyard Lane, with Pear Tree Cottage just beyond.
The building in the centre was a smithy and, just to the right, is Dorcas House, the predecessor to Stone Court. Just in front of these buildings can be seen the village pond which provided water for the cattle; there being no need for a trough.
On the extreme right are the appropriately-named Gable Cottages.
Most of the above-mentioned buildings cannot be seen from the Common today as many trees have either been planted as can be seen in the picture, or been permitted to self-propagate and grow naturally to their full potential.
For a similar view, visit
picture #297
to which many people have added comments.
A Large Version is available.
View Large Version
Picture added on 15 March 2016 at 14:21
Comments: