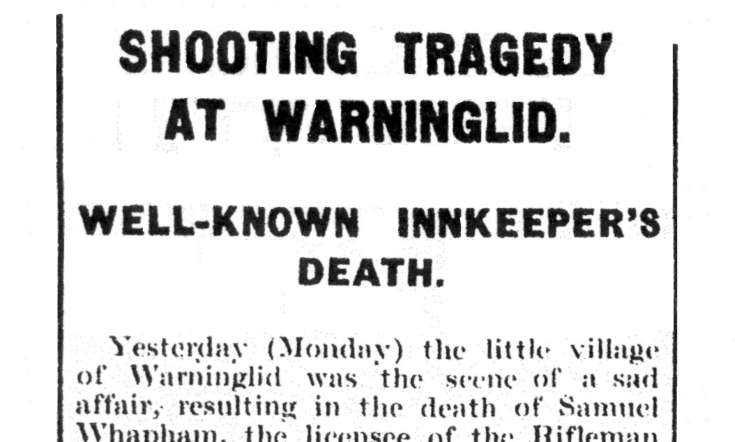 The Slaugham Archive
Sad story of Samuel Whapham of the Rifleman Inn
On 19th October 1925 Samuel Whapham (1876-1925) of the Rifleman Inn in Warninglid took his own life, and various documents relating to this tragic event have already been uploaded to the website. Enter "Whapham" in the search box to locate them.
The documents were kindly supplied by Mrs Mary Underdown of Hove who has now sent me further documents relating to the Whapham family.
Select Large version to view a newspaper cutting of Samuel's death published the very next day.
An enquiry into his death was held in Warninglid just nine days after the event and a newspaper report into the circumstances surrounding the death can be viewed by selecting Open Document. The coroner returned a verdict of suicide while of unsound mind adding that Samuel's war experiences probably weighed heavily on his mind.
The Battle of Jutland started on 31st May 1916 and soon there will be various events in important locations to commemorate the centenary of this huge battle. It is recorded that the Royal Navy lost 6000 men, but that figure did not include Samuel who was surely a victim of the battle and deserves to be remembered on the centenary.
View Large Version
Open Document
Picture added on 24 March 2016 at 21:02
This picture is in the following groups
People