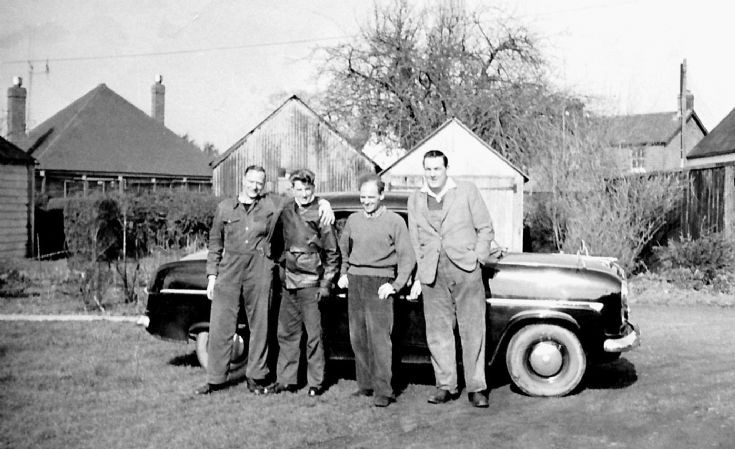 The Slaugham Archive
Staff of Worth Engineering, Handcross
Worth Engineering was founded by George Pattison who lived with his wife and two sons at Hill Top in Brighton Road, Handcross. Next to the house was the old Handcross Laundry (see
picture #77
) which he converted into a small factory. In the early years a couple of extensions were added to the old laundry building, but some years later the whole building was replaced by a new and larger factory unit as the business expanded.
In the early years, the factory workers comprised, from the left, George Hotten who lived next door in the bungalow, Gilridge, Maurice Beeching, Reg Richardson who lived in Burgess Hill before emigrating to Australia, and Brian Message.
The car may be a Ford Zephyr Six (1950-54), and may have belonged to Reg Richardson to enable him to commute from Burgess Hill.
Click on Large Version for a close up.
Select Open Document to view George Pattison practising his golf swing, and also his son, Bryan, who joined him in the firm. The photographs date from 1965 and show Hill Top in the background.
No doubt the Mk 2 Jaguar (1959-1967) belonged to George Pattison.
View Large Version
Open Document
Picture added on 10 April 2016 at 19:23
This picture is in the following groups
People
Comments: