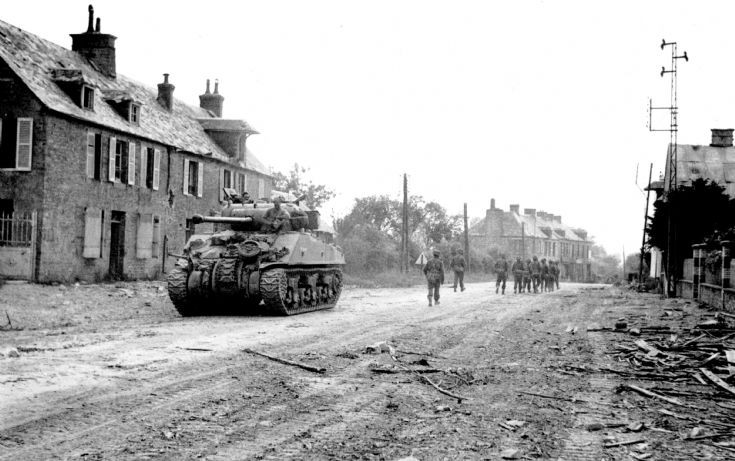 The Slaugham Archive
St Martin des Besaces in WWII (1 of 4)
The annual twinning weekend takes place at alternate venues with the event being held in Slaugham and Staplefield on even years, and in St Martin des Besaces and La Ferrière-au-Doyen in odd years.
Members from both countries are mindful of the dramatic events which took place in and around St Martin des Besaces in the summer of 1944 following D-Day. It was deemed such an important chapter for the inhabitants of St Martin that a museum was opened to record those events. To view its website, search for Musée La Percée du Bocage.
In 1981 my father, Roger Ray, obtained copies of photographs relating specifically to the events of 1944 around St Martin des Besaces and these are reproduced over the next four pages.
The D-Day landings took place on 6th June 1944 and the allied forces faced strong resistance as they steadily advanced through Normandy over the coming weeks.
The above photograph showing infantry and a stationary tank was taken looking westwards on the main road through St Martin des Besaces at its junction with Rue de la Mairie. The last-named road leads to the Mairie on the right and the village square on the left.
The present-day museum is located in the same direction as that shown in the photograph, about 300 yards on the left.
A Large Version shows a close up.
Select Open Document to view another picture taken from the same spot, this time including two tanks.
I am grateful to the Imperial War Museum for permitting the use of the photographs: © IWM (B 8293).
View Large Version
Open Document
Picture added on 23 April 2016 at 10:49