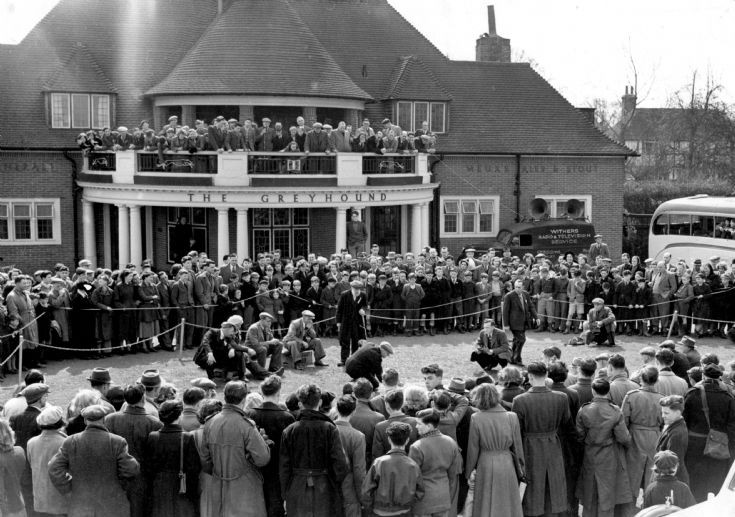 The Slaugham Archive
Marbles Championship- Handcross Bulldogs (1 of 7)
Teams from Handcross have been competing at the British and World Marbles Championship since 1946 when the competition resumed once the Second World War had ended and most of the men had returned home.
Since 1936 the traditional venue has been the Greyhound pub at Tinsley Green, near Crawley, Sussex.
The next seven photographs record the story of the earliest of these teams, the Handcross Bulldogs, named after the breed of "Winston" who belonged to Horace Mills, Chairman of the Handcross Social Club under whose auspices the team played.
The match in progress is between the Copthorne Spitfires on the left and the Handcross Bulldogs on the right.
Standing with a walking stick is George "Pop" Maynard, captain of the Copthorne team, which was comprised mainly of Pop's sons.
Seated on the opposing bench is captain of the Handcross team, Arthur Chamberlain, wearing a trilby hat. Next to him is my grandfather, Jim Longhurst, wearing his Sunday-best cap.
In the centre of the upstairs balcony is the organiser of the event, George Burbridge, who used to commentate non-stop throughout the competition, including when you are playing an important shot! Next to George is his daughter, Sally, who used to sit at a table keeping the paperwork in order and announcing the order of play.
The referee can be seen squatting next to the ring keeping a beady eye out for any fudging! He also kept the score and shouted that up to the commentator to announce to the public.
As can be seen on the right, Withers Radio and Television from Crawley has been hired to supply a van with two loudspeakers mounted on the roof.
Although it was not normal at other sporting events, the officials stayed at their posts throughout the competition and so they ordered their pints of beer over the loudspeakers. The drinks were duly supplied a couple of minutes later!
The upstairs balcony is now mostly covered in to provide an additional bar area. The al fresco balcony now consists of a narrow strip running around the edge.
Select Open Document to view another picture of the same match. Most of the parking area would have been taken up with the coaches arriving from each of the participating villages, and many cars, mainly pre-war, can be seen parked on the side of the main road.
View Large Version
Open Document
Picture added on 24 April 2016 at 20:46
This picture is in the following groups
Marbles