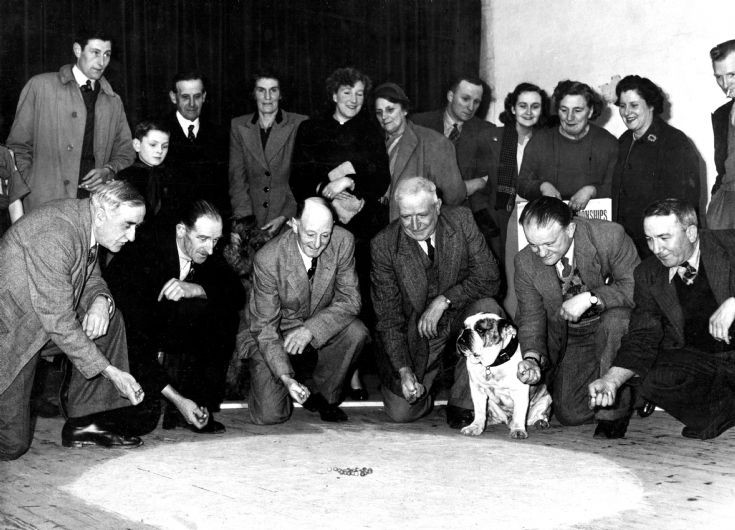 The Slaugham Archive
Handcross Bulldogs marbles team 1952 (3 of 7)
Members and supporters of the Handcross Bulldogs marbles team gathered in the Parish Hall to have some promotional photographs taken just prior to the British Championships due to be held at Tinsley Green on Good Friday, 1952.
Standing, from the left: 1 Unknown, 2 Barry Ray (Wolf cub in the Handcross Scout Team), 3 James Wilson (groom/estate worker at Ashfold), 4 Mrs Mabel Wilson, 5 Unknown, 6 Unknown, 7 George Burbridge (Organiser of the championships), 8 Mrs Burbridge, 9 Mrs Nora Mills, 10 Lily Snelling (née Doggett), 11 Harry Langridge (Marbles individual champion 1946, 1947, 1948, 1949).
Squatting: 1 Unknown, 2 Jim Longhurst, 3 Bill Baigent, 4 Ted Gasson, 5 Horace Mills, 6 Arthur Chamberlain.
Sitting next to Horace Mills is Winston, the team mascot.
Actually, Ted Gasson and Horace Mills were simply standing in for the publicity photograph as they did not play for the team at the forthcoming championship.
Click on Large Version for a close up.
Select Open Document to view a newspaper cutting from 1950 featuring the Bulldogs.
From the left, the players are: Unknown, Ted Gasson, Jim Longhurst, Archie Smith, Bill Baigent, Arthur Chamberlain.
View Large Version
Open Document
Picture added on 27 April 2016 at 21:26
This picture is in the following groups
Marbles
Comments: