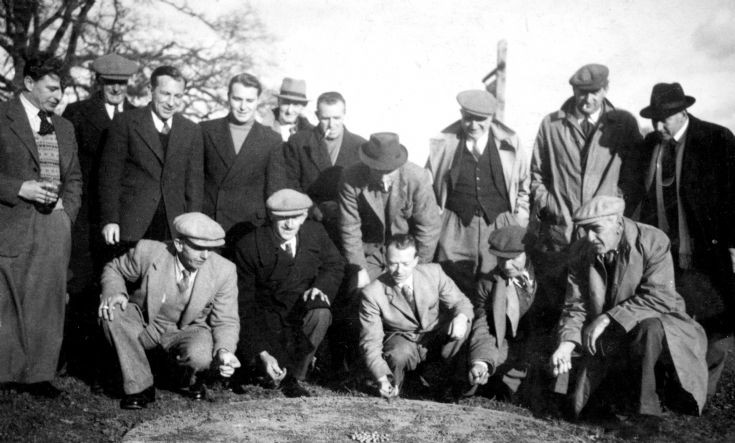 The Slaugham Archive
Handcross Bulldogs marbles team (4 of 7)
A group of players have been asked to pose for a press photograph at the British Marbles championship held at the Greyhound pub, Tinsley Green every Good Friday.
The players are Archie Smith, Jim Longhurst, Wee Willie Wright, Arthur Chamberlain, and Unknown.
Standing at the back, partly obscuring the pub sign, is, I think, Ted Gasson.
Except for Wee Willie who played for Tinsley Green Tigers, all the persons named above played for the Handcross Bulldogs team.
Wee Willie won the individual championship in 1950, 1955, 1956, 1957, and 1959. Arthur Chamberlain won the title in 1954.
Compared to present day standards the playing conditions were terrible with clods of lumpy builder's sand applied to the playing area. Nowadays fine, dry silver sand is used and carefully sprinkled uniformly with a kitchen sieve borrowed just for the day!
Click on Large Version for a close up.
Select Open Document to read an entertaining report of the championships from Good Friday, 1952.
However, there is an error in that Austin "Tom" Chamberlain's grandfather is not Jim "Atomic Thumb" Longhurst; he was my grandfather!
View Large Version
Open Document
Picture added on 29 April 2016 at 17:31
This picture is in the following groups
Marbles