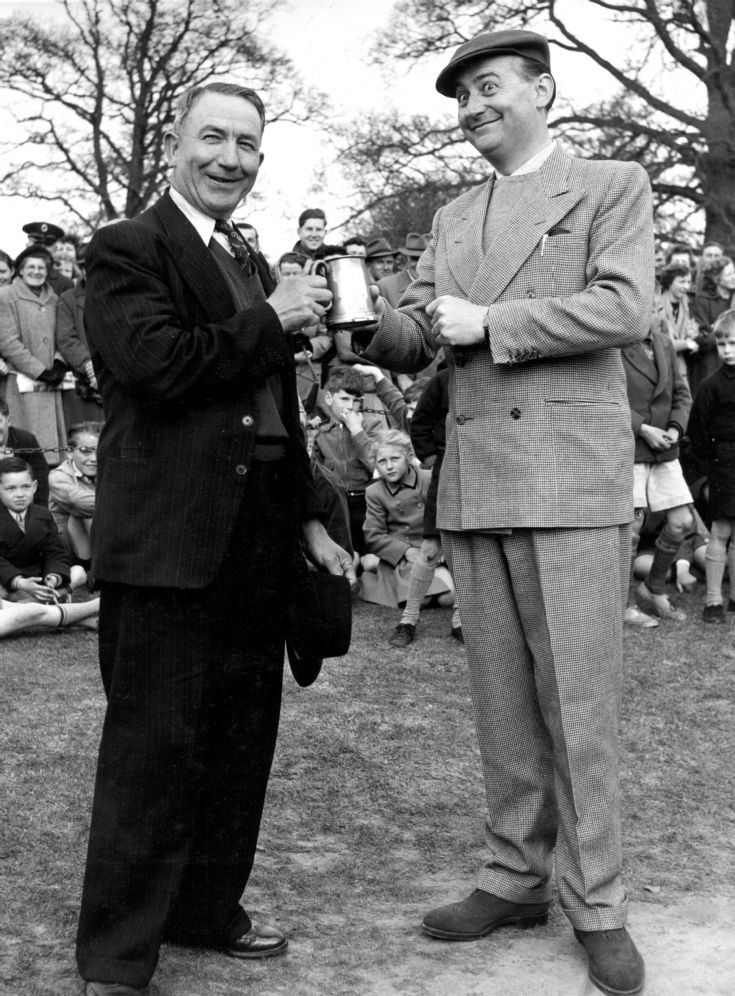 The Slaugham Archive
Arthur Chamberlain - Marbles Champion (6 of 7)
A huge crowd turned up at the British Marbles Championship at Tinsley Green on Good Friday 1954 and success came to the Handcross Bulldogs team as their captain, Arthur Chamberlain became the individual champion.
He is seen here receiving the trophy, a beer tankard of course, from Cyril Fletcher.
A Large Version shows a close up.
Marbles is not without the odd controversy at times with ladies being banned from the championship in the early years, then in 1970 after being permitted to play it was thought to be in bad taste for lady players to wear mini skirts, so they were banned, and in 1977 a rival marbles championship took place on the same day in Crawley Leisure Centre.
In 1953 an appeal by the Rev. Edward Bradbrooke in the Slaugham Parish Magazine found its way into the Evening Standard. The appeal sought to encourage parents to send their children to church on Good Friday and not permit them to watch the marbles at Tinsley Green. It is not recorded if the appeal was successful, but I think not!
Select Open Document to read the cutting.
View Large Version
Open Document
Picture added on 03 May 2016 at 10:17
This picture is in the following groups
Marbles