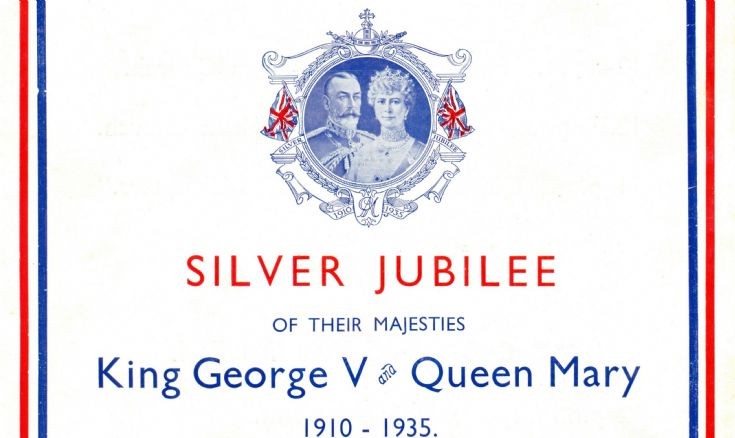 The Slaugham Archive
Silver Jubilee of King George V
King George V and Queen Mary celebrated their Silver Jubilee in 1935 and 6th May was declared a national holiday to allow their subjects to join in with festivities throughout the country.
The Slaugham Parish held several events throughout the day and a Souvenir Programme was issued to inform the residents of what had been planned.
Select Open Document to view the programme.
The cricket ground was located behind the Rectory (see
picture #387
).
The programme was kindly supplied by Jennie Pettit and is the only document or photograph in the archives available for the Silver Jubilee or for any of the other royal events, both joyous and sad, which had taken place over the previous forty years. However, Mrs Ena Tulley (1897-1973)(née Anscombe), wife of Ralph Tulley of the Post Office, kept copious records of events in the Parish and it is worth reading what she records for that period.
"There were great festivities for Queen Victoria's Diamond Jubilee in 1897. The village was decorated, and there were thanksgiving services. There were sports and fireworks in the field that was once the cricket field, opposite Hoadley's, at the entrance to Cow Wood (now Nyman's car park), and a sit-down feast of some kind was provided.
In 1901, there were demonstrations of sorrow on the death of the Queen, and everyone went into dead black. There were special services.
In 1902, the coronation of King Edward VII was celebrated with rejoicing, and the Post Office was closed on 26th and 27th June.
On the day of King Edward VII's funeral on 20th May 1910 there was a service at Slaugham at 3pm. The Post Office was closed for that time.
In 1911 the coronation of King George V and Queen Mary was celebrated in the Red Lion Field with a sit-down meal and fireworks afterwards. There were special services and sports."
It is also worth mentioning that the Parish Council arranged for the supply of wooden benches with a carved inscription commemorating the Silver Jubilee. Two were placed in each of Pease Pottage, Warninglid, and Slaugham, with five in Handcross. I doubt that any have now survived.
Open Document
Picture added on 04 May 2016 at 11:34