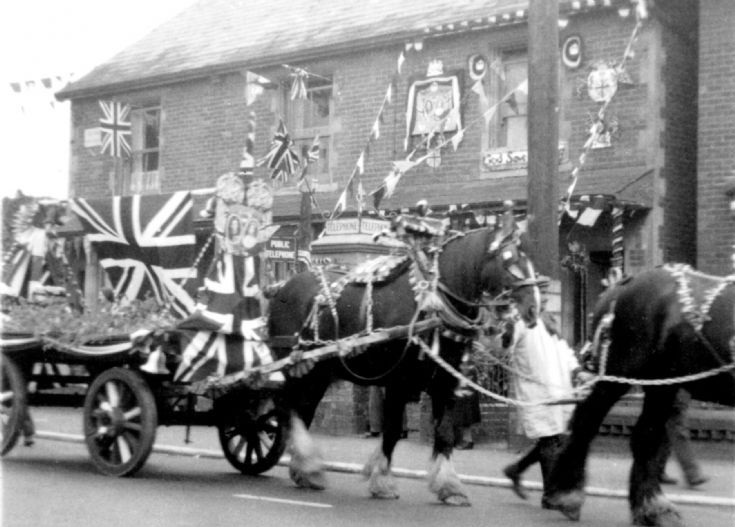 The Slaugham Archive
Coronation of George VI -Parade and telephone box
The procession for King George VI's coronation moved further down the High Street in Handcross and this photograph was taken from outside the newsagent's shop looking towards Rose Cottages, a terraced block of three houses.
The same wagon drawn by two horses can be seen by selecting the document attached to
picture #1736
, but on studying the above photograph I was amazed by what could be seen in the background.
There is a sign "Public Telephone", and one of the very first telephone boxes in the country, first produced in the 1920s. It is a Kiosk No. 1, better known as the K1, made of reinforced concrete, painted cream, with a pyramid roof topped off with ornate metal scrollwork and finial. They were soon replaced by a range of the more familiar cast iron red boxes starting from model K2.
How I wish that the photographer had taken a picture of Rose Cottages, without the procession passing by!
Although I can find no documentary evidence, I recall that for a period between the World Wars there was a telephone exchange operating in one of Rose or Oakley Cottages through which all calls to and from the village were connected on a manual exchange. According to the photograph, the kiosk was located in the front garden of 3, Rose Cottages and I think it is safe to assume that the location of the exchange was also located there.
Select Large Version to view the above photograph, and click on the telephone kiosk to see a close up.
Select Open Document to view one of the five remaining K1 telephone kiosks.
View Large Version
Open Document
Picture added on 10 May 2016 at 18:07