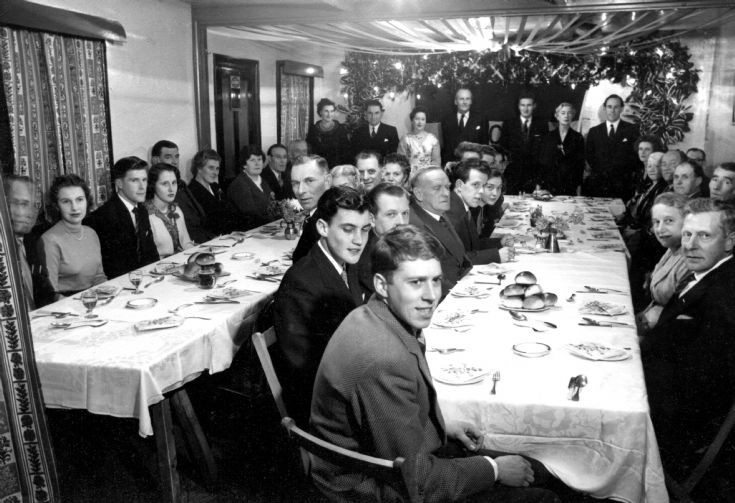 The Slaugham Archive
Staplefield cricket Supper at the Victory Inn
It was felt by some members of the Staplefield cricket club that a get-together would be enjoyable during the winter months when no cricket was playable. The outcome was a Supper held in the Victory Inn on Friday, 12th December, 1958.
I am reliably informed that the main course was Telfers Meat Pies.
The guest of honour was cricketer Jim Parks of Sussex and England, accompanied by his wife.
Select Large Version for a numbered close up.
1 Ron Pateman, 2 Bob Hammond (umpire), 3 Mrs Hammond, 4 Marie Pateman, 5 Les Pateman, 6 John Robins, 7 Nora Ray, 8 Roger Ray, 9 Mrs Parks, 10 Geoffrey Gardner, 11 Jim Parks, 12 Mrs Gardner, 13 Ian Robertson, 14 Joe Ray, 15 Dorothy Palmer (née Ray), 16 Gerry Ray, 17 Eva Ray, 18 Rex Ray, 19 Bill Stockton, 20 Bob Sayers, 21 Rob May, 22 Mrs Robertson, 23 Barbara Prevett, 24 George Prevett, 25 Charlie Pennifold.
Select Open Document to view an invitation for the Supper evening and a newspaper cutting of the event.
During his speech Jim Parks was asked about the current test series in Australia where the MCC had just lost the first test by 8 wickets. Jim was optimistic as the England team comprised an impressive array of players and they were bound to succeed. The players included bowlers, Fred Trueman, Frank Tyson, Brian Statham, Peter Loader, Jim Laker, Tony Lock, all-rounder Trevor Bailey, and batsmen, Peter May (Capt), Colin Cowdrey, Tom Graveney, Ramon Subba Row, and Ted Dexter, with wicket keeper Godfrey Evans.
With players like those, England just could not lose. As it turned out Australia won the series 4-0!
View Large Version
Open Document
Picture added on 15 June 2016 at 17:38
Comments: