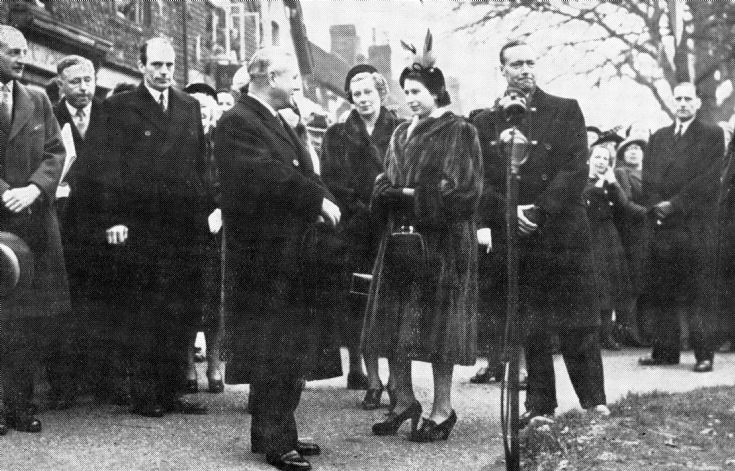 The Slaugham Archive
Princess Elizabeth visits Crawley and Broadfield
On 25th January 1950 huge crowds came to the town of Crawley to see Princess Elizabeth walk around the town centre. She was accompanied by Prince Philip, whom she married just over two years earlier on 20th November 1947.
The two excited ladies captured on the video were Nora Ray (née Longhurst) on the left, and Peggy Ray (née Munn), both from Handcross.
One of the Princess's duties was to officially name an important new road which had been built in an area just to the north of the town centre. The road name of "Manor Royal" had been kept a secret, and was chosen, it is reported, by the Princess after consulting early Tithe maps.
Little did anyone surmise that in two years' time her life would change forever when her father, King George VI, died on 6th February 1952, and she would accede to the throne and become Queen Elizabeth II.
The town of Crawley is outside the area covered by the website, but with their duties fulfilled, the royal party and their entourage visited, it is reported, the home of Mr and Mrs Hammond, their son and two daughters. I assume the Hammonds lived at Broadfield House (which was in the parish of Slaugham), for that was the destination of the procession of ten limousines. The Princess was in the second car with the Royal Standard fluttering above the windscreen.
At the entrance to Broadfield House, located at the bottom of Pease Pottage hill on the old A23 opposite the present-day entrance to Tilgate Park, three police officers were on duty to ensure a trouble-free journey. PC Steve Message is on the right, and I can recall hearing from my father that PC Siggs was also on duty and perhaps that is him in the middle.
My father, Roger Ray, took the opportunity to make use of his new clockwork 9.5mm cine camera. Unfortunately it was a very gloomy day!
Click on link below to view the very short video.
Select Open Document to view a two-page article on the royal visit published in an unknown magazine. Page three seems to be missing, which is probably just as well!
I wonder how much the Princess paid for the cherished number plate!
Open Document
View Video
Picture added on 24 July 2016 at 19:02
This picture is in the following groups
People
Comments: