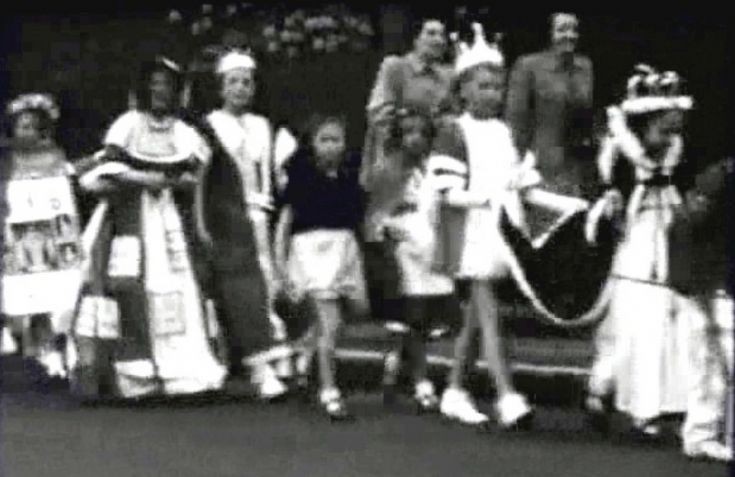 The Slaugham Archive
Video of Coronation procession (4 of 4)
Posters were published announcing the festivities in the Parish on the day of the Coronation, 2nd June 1953, and also the following day, being a Wednesday. A copy of the poster can be seen at
picture #1763
where a procession of decorated vehicles was planned for the Tuesday. As it turned out, the procession included so much more.
My father, Roger Ray, had recently purchased a clockwork-powered 9.5mm cine camera and he took about a minute of film to record the procession. It can be viewed by selection View Video. Don't forget to turn on the sound!
In the background can be seen the back of some of Chodds Cottages in the High Street.
Leading the procession was the Handcross Brass Band, with Bill Robinson in the front wearing a light-grey raincoat playing a tuba.
The girl wearing the frilly red, white and blue custume was 14-year-old Margaret Briggs playing a cornet..
Close to Margaret is Gerald Cosens in scout uniform also playing a cornet.
In the back row, close to the pavement is Reg "Dodger" Leppard playing a snare drum.
Following the band is the Coronation Queen, 18-year-old Joan Weller from Cotsfold Nurseries, Pease Pottage. Quite unlike the other Queen in London, Joan's regal carriage was pulled by two donkeys! (See
picture #891
)
Next was a horse-drawn wagon displaying an enormous flower-covered model of St Edward's Crown, which is the one used at coronations.
There next followed a limousine and two tractors, all well-decorated for the occasion.
Next was a tractor-drawn trailer with members of the armed forces and of the nursing profession.
A similar trailer followed which featured members of the Women's Institute enjoying a celebratory tea party and using an enormous teapot!
The most unusual entrant of the procession was a nanny pushing a much-overgrown infant in a pram which was decorated with beer bottles hanging down the sides. I am not sure which one was which, but the nanny and infant were more commonly known as Steve Messer from Pease Pottage, and his cousin Sid Sargent from Handcross. (See the comments attached to
picture #486
)
At the back were about 25 children all in fancy dress. The boy wearing white trousers with stripes down the side is Andrew Cook, and he is followed by Queen Elizabeth I, otherwise known as Jackie Carpenter (née Messer). Jackie won first prize in the fancy dress competition. The grainy picture above is a frame from the video and shows the first Queen Elizabeth.
Bringing up the rear is Andy Sargent sporting a patch over one eye and a pirate's scimitar.
View Video
Picture added on 29 July 2016 at 10:08