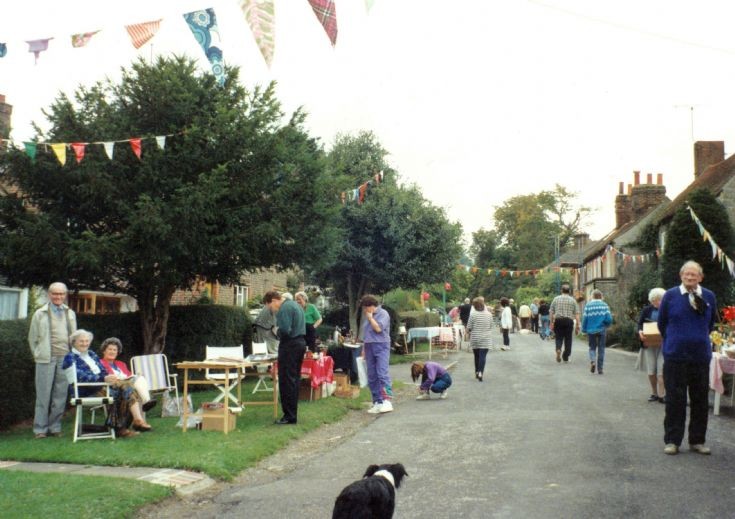 The Slaugham Archive
Street Fairs at Slaugham (1 of 5)
During the latter part of the last century Slaugham village held Street Fairs every other year when the main street was decorated with bunting and local people would set out their stalls selling all manner of items. The photograph captures a view of the fair held on 20th September 1992.
On the left is my mother, Nora Ray, in the blue cardigan. My parents' stall was based on local history and the public could view items on display and also buy one of my father's books.
My mother has written a note on the reverse of the above picture "Rita's dog had just been along and eaten my hotdog". The guilty dog was the collie in the foreground, owned by Rita Botting, seen walking up the street in the blue and white jumper.
My mother has been joined by Roy and Eileen Leadbetter from Handcross.
On the right in the blue jumper is George White of Bosworths.
The Large Version shows a close up.
Select Open Document to view two more pictures of my parents' stall, with Roger Ray in the dark blue jacket. In the first picture, chatting to my mother, is Eileen Leadbetter in the red jacket, meanwhile Roy is more interested in reading the books!
On the right in the green jumper is Paul Woodley, whose parents lived at Clare Cottage.
I do not know the identity of the couple visiting the stall in the second picture.
View Large Version
Open Document
Picture added on 15 August 2016 at 15:12