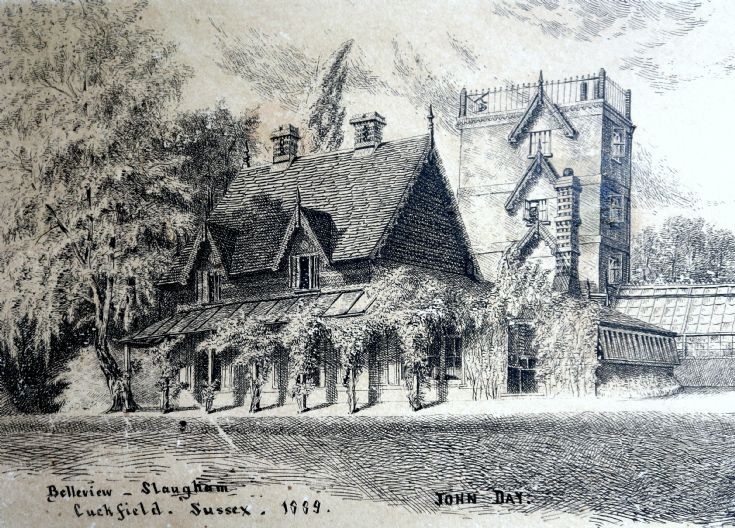 The Slaugham Archive
Belleview - Mystery house at Slaugham
For many years this original line drawing has been hanging in a darkened corridor in a local house and the owner has given permission to add this to the Slaugham Archives website in an effort to trace the location.
The artist was John Day, but I can find no trace of him in any records.
I have searched old maps from the latter half of the 19th century, many of which show glasshouses with the traditional hatched lines, but I cannot find any group of buildings with a similar footprint as that shown above.
I believe the reference to Cuckfield was added because it was a prominent administrative town in 1889. For example it was the location of the registration office for births, deaths and marriages.
A search for Belleview (or similar name) in the parish of Slaugham yielded two residences. There is a Belle Vue Country House care home in Warninglid but there was no trace of it on a map of 1910 as it is too modern. The other residence is in Pease Pottage and was called Bellevue Farm, until its name was changed to Hardriding in the latter part of the 20th century. However, on a map of 1874 the several buildings making up the farm did not appear to include any glasshouses.
At this stage it was tempting to dismiss the drawing as a fictional project by an architect who had decided to add a multi-storey folly in the back garden!
However, I then discovered an entry in a Kelly's Directory of 1867 which listed notable people in the parish of Slaugham which included "Dominic Navone of Belle View". Further investigations verified that he was born in Genoa, Italy, and that he normally lived in London. Therefore he did not appear on the Slaugham censuses which would have been crucial in solving the location of Belle View.
He was a "gentleman" of independent means who died unmarried on 26th January 1868. For death certificate purposes, the informant was named as Allen Harding, also of Belle View. I cannot find the informant's name in the censuses.
Dominic was buried in Norwood Cemetary, Lambeth on 5th February 1968, and his nephew, also called Dominic Navone, was granted Letters of Administration on his death.
Please can anyone assist with the location of Belle View?
The Large Version shows a close up.
Select Open document to view two documents relating to Dominic's death.
View Large Version
Open Document
Picture added on 22 August 2016 at 19:07
Comments: