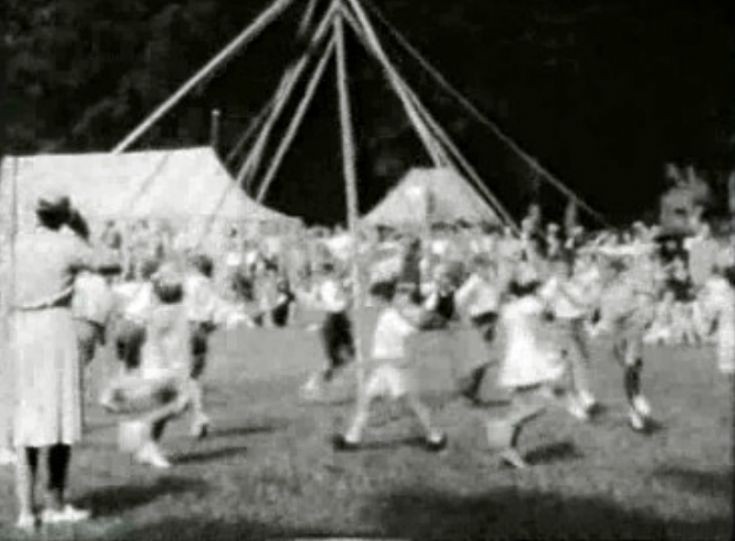 The Slaugham Archive
Handcross Flower Show 1949
The early Flower Shows in Handcross were held in the Red Lion Field, behind the pub, from probably just before the start of the Great War in 1914, and continued in that location until 1935 when the Parish Council gave permission for the event to be held in the Recreation Ground . However, they stipulated that the fair and side shows should not be allowed!
The video shows children from Handcross School performing the Maypole Dance keenly watched by their choreographer, Mrs Lily Jakes, in the foreground. In the background can be seen a large marquee which would have held the competitive displays of flowers, vegetables and craft items
Then follows a game of musical chairs with Mrs Nora Ray running away from the camera to claim a vacant chair.
The first piece of music on this video is "Come lasses and lads, take leave of your dads", being the traditional piece of music for dancing around the maypole. At the event, Tom Norris from Tilgate Forest Lodge, Pease Pottage played this tune on the piano.
No flower show would have been complete without Handcross Brass Band playing to entertain the public. I can spot Gerry Ray in a dark suit on euphonium nearest the camera in the fourth row from the back, and Reg Leppard bringing up the rear with the snare drum.
The video was taken by Roger Ray on his clockwork 9.5mm cine camera.
Click on View Video to watch the epic!
View Video
Picture added on 25 August 2016 at 19:37