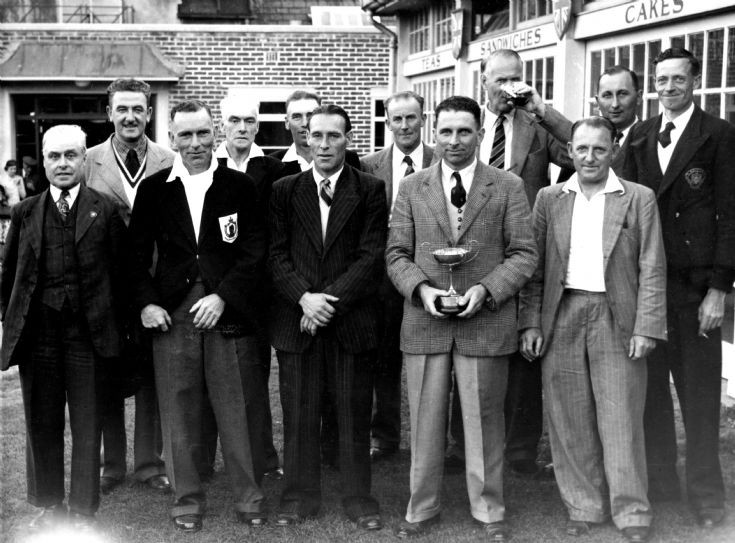 The Slaugham Archive
Handcross British Legion cricket team
For several years in the 1950s Handcross British Legion entered a knock-out cricket competition open to the numerous Sussex branches of the British Legion.
A cup was to be presented to each of the finalists, but the big incentive, certainly for my father, was the opportunity of playing the final on the County Ground at Hove.
After several unsuccessful attempts, the Handcross team succeeded to making it through to the final when, unfortunately, they lost to Hurstmonceux.
I think the above photograph showing the team with the runners-up trophy cannot hide their disappointment.
From left to right, back row:- Nelson Cook, John Robins, Jack Honey, Arthur Brown, Alan Hilder, Jack Stewart, Harold Morley.
Front row:- Ebbie Robins (scorer), Joe Ray, Les Pateman, Roger Ray (captain), Alan Pattenden.
I am puzzled as to the reason why Staplefield player, Jack Honey, appears in the photograph, but another Staplefield player, Roy Barratt, appears in his stead in the text of the newspaper cutting attached.
The Large Version shows a close up.
Click on Open Document to view four newspaper cuttings; two of the final, and two of a first round match when the Handcross team beat Nutley.
Regarding the latter match, as they were Crawley newspapers, prominence is given to Ifield players, Alan Hilder (Cottesmore School) and Jack Stewart, but I think it is only right and proper that mention is made of Handcross bowler, Ken Doggett, who took 6 for 23.
Select View Video to watch an extremely short video of the Handcross team walking onto the pitch at Hove in the final. First on the field is Roger Ray, closely followed by Alan Hilder and Les Pateman. In fifth place is Joe Ray wearing his wicket-keeping gloves.
View Large Version
Open Document
View Video
Picture added on 31 August 2016 at 11:55
Comments: