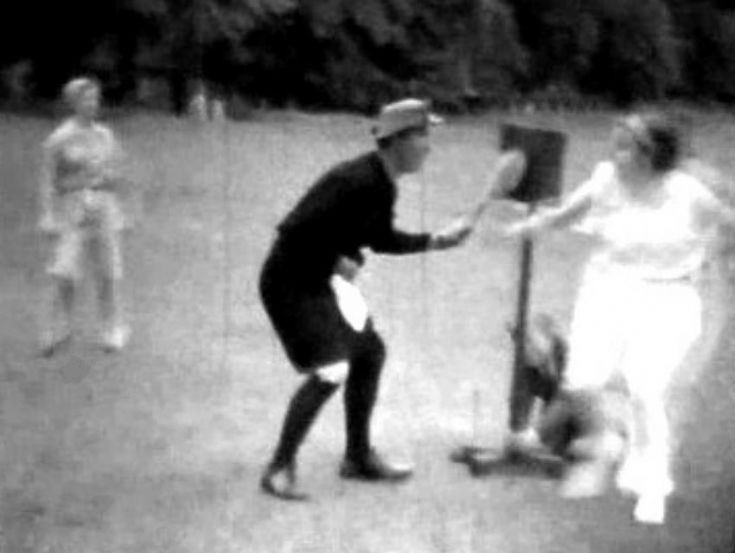 The Slaugham Archive
Stoolball match - Staplefield cricketers v ladies
In 1957 Staplefield cricket club played a football match against a ladies team (see
picture #899
), and it was felt only right and proper that their respective skills should be tested in a game of stoolball.
Select View Video to see Roger Ray's cine film showing the highlights. It won't take long!
The first scene shows runs being scored by Harold Morley wearing a fetching black outfit and partnered by voluptuous George Prevett. For the ladies, Lily Jakes, arriving straight from her boudoir, is very nimble at the wicket.
Worryingly, Johnny Pearce seems quite at home coming to the wicket in his veiled hat, white gloves and handbag!
Joe Sayers, dressed rather more austerely, shows his skill with the bat with a clever reverse sweep. The wicket was treated quite roughly by the men in their efforts to prevent being run out, and Michael Pateman was pressed into steadying the base.
Those appearing in the lineup were Harold Morley, Johnny Pearce, Unknown, Unknown, John Robins, Unknown (partially hidden), Joe Ray, Gerry Ray, and George Prevett.
View Video
Picture added on 15 September 2016 at 10:17
This picture is in the following groups
Stoolball