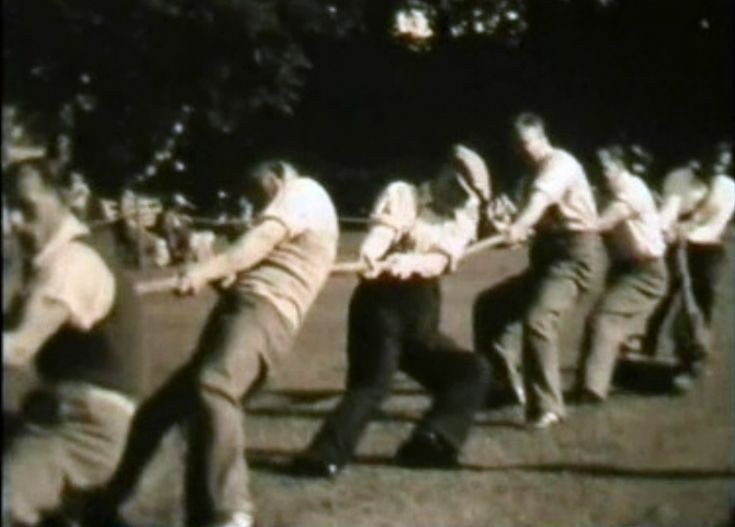 The Slaugham Archive
Handcross British Legion Fete 1950
Further to
picture #1548
where you can find a photograph and further information of the event, here is a video of the Handcross British Legion fete held in the Recreation Ground on 1st July 1950.
Major General, the Earl of Athlone was present to inspect the long lines of ex-servicemen from both world wars, and he was accompanied by his wife H.R.H. Princess Alice, Countess of Athlone (1883-1981), the last-surviving grandchild of Queen Victoria. Their official hosts were Colonel J. Raymond Warren and Mrs Eveline Warren.
Those I can recognise are Roger Ray, having his medals inspected by the Earl, with Richard Sykes (Ashfold School) just beyond, and Les Pateman next-but-one this side of Roger Ray.
In the front row, from the right, are Harry Ray in a light-coloured jacket, then Bill Wheeler (both from Pease Pottage), then Ebbie Robins, and Bill Hazelgrove with the crutches.
In addition to the ex-servicemen, there was good representation from the local Nursing Association, Girl Guides, Boy Scouts, and the Cubs.
There followed a demonstration of an anti-aircraft gun firing at a low-flying Auster plane which repeatedly tried to bomb those assembled in the Recreation Ground. As can be seen in the video, the aircraft was quite safe as the gunners were loading the gun with invisible shells!
The tug-of-war competition was between members of the British Legion and the army. I can spot burly Basil Wilkinson third from the back of the Legion team.
The tilting-the-bucket game involved competitors sitting in a wheelbarrow trying to place a pole through a hole; failure to do so would tilt a bucket of water over them and possible decapitate them. All good fun!
Lastly, there is a clip of two-year-old Laurence Ray reluctantly releasing a helium balloon in an effort to win a prize for the balloon which travelled furthest.
Select View Video to see the cine film shot by Roger Ray on his 9.5mm clockwork camera.
A copy of the programme can be seen by clicking on Open Document.
Open Document
View Video
Picture added on 21 September 2016 at 17:48
Comments: