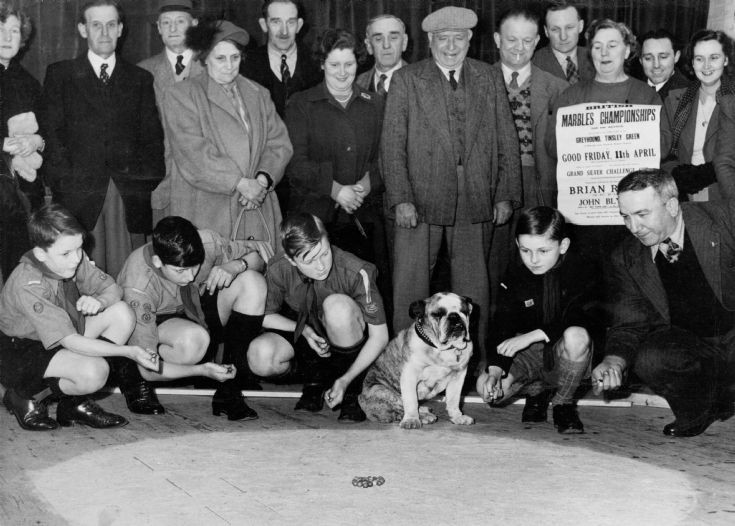 The Slaugham Archive
Scout team at Marbles Championship (1 of 11)
The 1st Slaugham Scouts, based in Handcross, decided that an attempt should be made to win the junior marbles championship held on Good Friday each year at Tinsley Green, a short distance from Gatwick airport. Our coach was Arthur Chamberlain, who later the world champion in 1954, and practising started in earnest in the scout hut in late 1951.
By the spring of 1952 it was decided to gather in the Parish Hall for a press photograph. Those attending were the scout team, most of the senior Handcross Bulldogs team, supporters of both teams, and representatives from Tinsley Green.
From the left, the scout team were Tom Chamberlain (captain), David Mitchell, Nick Boakes, Barry Ray, and Arthur Chamberlain (coach). Also in the line up is the mascot,Winston, owned by Horace Mills.
Standing are 1 Unknown, 2 James Wilson (groom/estate worker Ashfold), 3 Bill Baigent, 4 Unknown, 5 Jim Longhurst, 6 Lil Snelling, 7 Unknown, 8 Ted Gasson, 9 Horace Mills, 10 George Burbridge (championship organiser), 11 Nora Mills, 12 Unknown, 13 Mrs Burbridge.
Another photograph of the event can be seen at
picture #1726
.
The Large Version shows a close up.
To view a newspaper cutting select Open Document.
View Large Version
Open Document
Picture added on 23 September 2016 at 17:11
This picture is in the following groups
Marbles