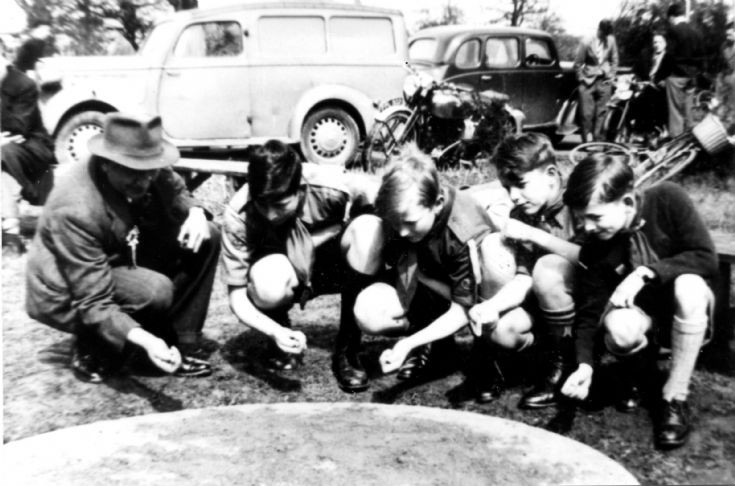 The Slaugham Archive
Scout team at Marbles Championship (2 of 11)
The 1st Slaugham Scouts marbles team played their first British and World Championship game on Good Friday 1952 and, although they had honed their skills at weekly practice sessions since November 1951, they can be seen here receiving some last-minute coaching from Arthur Chamberlain on the left. The team comprised, from the left, David Mitchell, Nick Boakes, Tom Chamberlain, and Barry Ray.
There are a couple of old cars and motorcycles in the background, but most of the village teams arrived in their own coach to bring along their supporters.
The Large Version shows me holding the trophy presented to the winning junior team. I would normally withhold this picture from public view but it was the best photograph I could find of the shield presented by Dawn White of the Amazons. Who the Amazons of that era were I have never been quite sure!
In about 1965 a junior team from Worthing won the shield and took it back to Worthing. Since then, nothing has been known of its whereabouts, although efforts have been made to trace it. Could it be in a secret underground cellar with Shergar, the Holy Grail, Lord Lucan, and the missing bell and a couple of plaques from Handcross school? See
picture #771
,
If you have any information on its current location please would you let us known.
It is such an impressive trophy that it deserves to be on display, or, even better, competed for by the youth of this country.
View Large Version
Picture added on 24 September 2016 at 13:34
This picture is in the following groups
Marbles