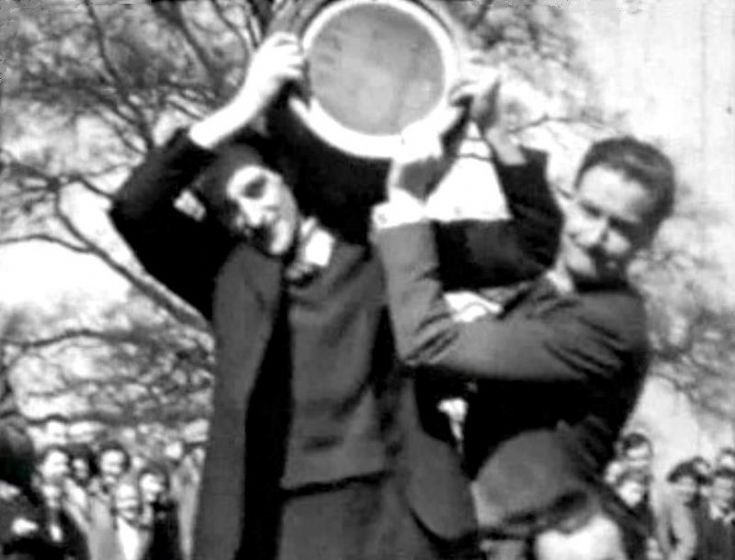 The Slaugham Archive
Scout team at Marbles Championship (3 of 11)
On Good Friday 1952, the British and World Marbles Championships at Tinsley Green attracted many teams, mainly from the south-east of England, and hundreds of spectators. Amongst the teams competing were the Handcross Bulldogs and, in the junior competition, the Slaugham Scouts.
The Bulldogs won a barrel of beer having lost in the final against Tinsley Green Tigers. The Tigers may have won a splendid Challenge Cup but the Bulldogs found their runners-up prize more to their liking. The barrel was taken back to the Handcross Social Club and my grandfather, Jim Longhurst, with a couple of others stayed there until it was empty!
A cine film was taken by Roger Ray on his clockwork 9.5mm camera.
There is a glimpse of George "Pop" Maynard of the Copthorne Spitfires, accompanied by Winston, the Handcross Bulldogs mascot. At the time of the championship the Prime Minister was Sir Winston Churchill, after whom the dog was named. It is also poignant to note that King George VI died on 6th February 1952, and therefore the reigning monarch at the time of these championships was Queen Elizabeth II, who had acceded to the throne only 9 weeks earlier.
The Bulldogs team comprised, from the left, F. Mitchell, Bill Baigent, Jim Longhurst, G. Warwick, Archie Smith, and Arthur Chamberlain (captain).
There are various shots of Jim Longhurst in the dark suit, and Arthur Chamberlain wearing a trilby.
The team wearing flat caps is the Arundel Mullets with brothers, Cyril and "Big" Bernard Wilcock, at the end of the line up.
The Slaugham Scouts team comprised David Mitchell, Nick Boakes, Tom Chamberlain (captain), and Barry Ray.
It was usual to have celebrities presenting the trophies, and in 1952 they were mustachioed actor Brian Reece (aka PC 49 of the BBC radio drama 1947-53), actor John Blythe, and writer, actor, raconteur, Alan Melville in the dark glasses.
On the microphone throughout the championship was George Burbridge.
The final of the junior championship shows me in the cub uniform missing all the marbles!
The presentation shows Jim Longhurst, aided by PC 49 and John Blythe, receiving the team runner-up prize.
The Slaugham Scouts won the junior championship at their first attempt and can be seen receiving the Dawn White shield.
To view the film click on View Video.
View Video
Picture added on 24 September 2016 at 13:45
This picture is in the following groups
Marbles