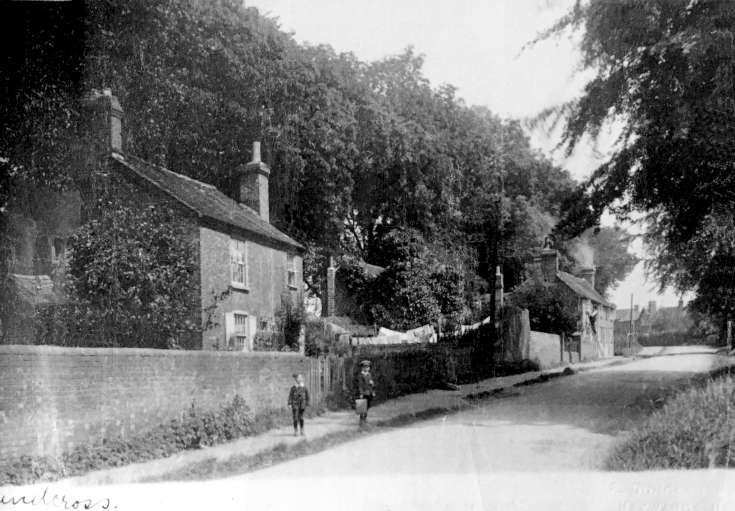 The Slaugham Archive
Horsham Road, Handcross. Entrance to Truggers
I am grateful to Sharon Sharman of Laurel Cottage for supplying this photograph which had been left behind by the previous occupier. Unfortunately it was only a photocopy of the original and was badly creased and damaged. The image has been restored but it is still lacking in clarity. Please does anyone have an original copy?
In the distance is the row of four terraced cottages, locally known as the Rabbit Hutches. They were later converted into two residences, Rose Cottage and Wheel Cottage.
Just this side of Rose Cottage is Laurel Cottage, mostly hidden from view by rampant ivy and laurel bushes.
Nearest the camera is Kilmenys and therefore the cameraman would have been standing in what is now the middle of the mini-roundabout! At that time Kilmenys was a pair of semi-detached cottages but in more recent years they were extended and then later converted into one residence. The old pair of cottages can be seen on a map of 1874 as the Large Version attached to
picture #1810
, just to the left of the figure "158".
The present-day entrance to Truggers is just beyond Kilmenys where they are indications that another building once stood. With all that washing hanging out to dry and the tall chimney for probably a boiler it seems likely that it was used as a laundry. See
picture #703
for information on Laurel Cottage being used as a laundry.
The Large Version shows a close up.
Select Open Document to view both the photograph above and
picture #701
which would have been taken within minutes of each other. Note the man on the ladder outside Rose Cottage.
View Large Version
Open Document
Picture added on 25 September 2016 at 13:46
Comments: