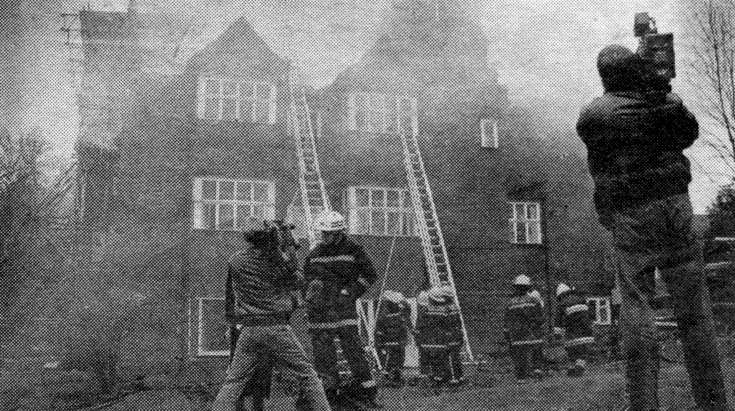 The Slaugham Archive
Fire at Slaugham Manor, forrnerly Slaugham Place
Following the fire reported on
picture #1857
, yet another fire took place at the Slaugham Manor on Thursday, 9th February 1995, less than 12 months after the earlier blaze. It is said that the cause of the later fire was a blowtorch being used by one of the builders working on the earlier repair work.
On the left a fireman is taking time off to be interviewed by a camera crew from presumably a television company. Meanwhile, on the right another cameraman is shooting some footage for the evening news.
This time the Mid Sussex Citizen estimated that the value of the damage exceeded £1,000,000.
Select Open Document to read a newspaper report of the incident.
There is news of a planning application due to be heard by Mid Sussex District Council Planning Committee on 20th October 2016. The application is for the main building to be converted to provide 9 flats, and the demolition of six buildings to provide a site for 15 new houses.
Select Large Version to show a report on the planning application which was kindly supplied by David Pearce.
View Large Version
Open Document
Picture added on 26 September 2016 at 19:33