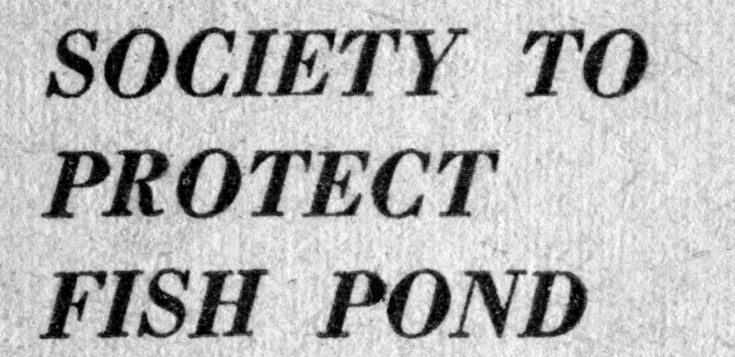 The Slaugham Archive
Slaugham Angling Club (1 of 2)
Fishing on the Furnace Pond was largely unregulated until 1957 when interested parishioners convened under the auspices of the Slaugham Parish Council to form an angling club.
The Large Version shows the brief announcement in the Star newspaper.
In my early years as a budding juvenile delinquent I became a member of the Slaugham Angling Club in order to fish on the Furnace Pond. This entailed a visit to 1, Bosworth Cottages in Slaugham village to pay the annual subscription to the Hon. Secretary, Tom Wilson.
Select Open Document to view three documents I have retained from the 1961/62 season.
Before I took up fishing I was introduced to the sport by my grandfather, Jim Longhurst. When I was about 12-years-old, one traumatic event took place at the Furnace Pond while watching my grandfather fish for pike with live bait,
All went well until he cast out and almost simultaneously an adult swan flew in to land on the pond and became tangled up with the line just a few feet from the float and bait.
The swan was not at all happy with the situation and tried to take off, and what started off as a tug-of-war on the water soon became an aerial battle!
Not wishing to cut the line and leave the swan in a life-threatening state, and not wishing to loose his line and tackle, my grandfather began the very slow process of winding in the line complete with a terror-stricken bird. It took about ten minutes for the bird to reach the bank whereupon my grandfather grabbed its neck with one hand and a wing with the other. I was persuaded to come closer and untangle the line from the traumatised swan which was still trying to escape from its captors!
I had heard tell that a swan could break a man's arm with its wing, but I was more concerned what it could do to a young boy!
Eventually, the bird was released and it quickly made its way to a safe haven on the other side of the pond.
View Large Version
Open Document
Picture added on 08 November 2016 at 12:10