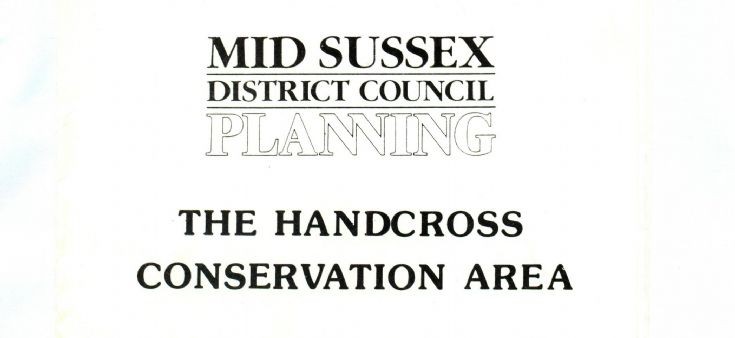 The Slaugham Archive
Handcross Conservation Area
On 20th March, 1990 part of the village of Handcross was designated as Conservation Area, and I suspect that many residents are unaware of this.
Click on Open Document to view the booklet issued by Mid Sussex District Council planning department.
The picture on page one is of the Staplefield Road and shows, nearest the camera, 1, Nymans Cottage, which was created from a pair of semi-detached cottages, numbered 1 and 2. Next is 3, Nymans Cottages which was created from numbers 3 and 4. Last is 5, Nymans Cottages.
On page two is Chodds farmhouse with its important line of pollarded limes on the roadside.
On page four there is a closer view of 3 Nymans Cottages and 5 Nymans Cottages.
In this month of November, 2016, BT have made it known that they wish to remove the red telephone box located in the entrance to the Parish Hall in the High Street. As I write, there is an online petition objecting to their proposal on the grounds that it is an iconic object of historical value. Arguably, perhaps it is not so important that the box contains a working telephone.
Unfortunately, the Conservation Area does not include the area beyond the last cottage before the driveway to the Parish Hall, and therefore both the telephone box and the old Fountain Inn were not included.
Open Document
Picture added on 08 November 2016 at 17:17