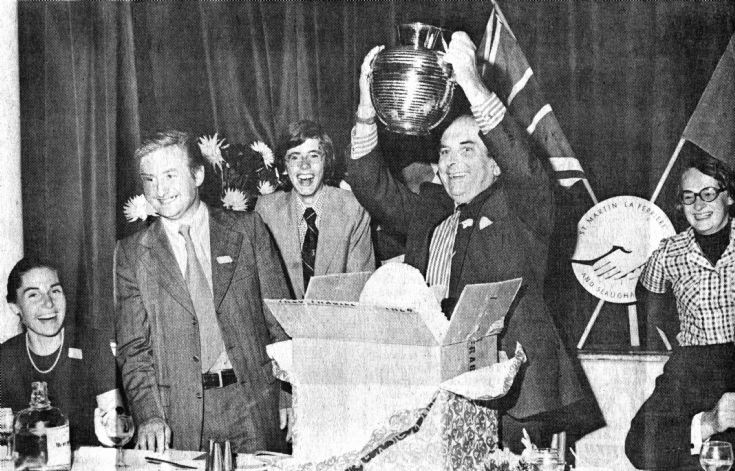 The Slaugham Archive
Slaugham Twinning (1 of 3)
Further to
picture #1199
, another newspaper cutting has turned up reporting on the first contact between the Slaugham Twinning Association and their twinned neighbouring villages of St Martin des Besaces and La Ferrière au Doyen in Normandy.
The picture above shows Roger Ray, chairman of the twinning association, receiving a gift from Pierre Prunier, Mayor of St Martin des Besaces.
The Large version captures the scene in the Red Lion car park just before the visitors left Handcross to catch the ferry home.
From the left they are:- Lucinda Benner, Peter Benner, Ruth Payne, Sid Beard, Kevin Greenfield, Hilary Preston, Unknown, Mme Villiere, Alan Greenfield, Unknown, Unknown, Stefan de Panthou (suit), Unknown, Unknown (back of car), Pierre Prunier, Mme de Panthou (sunglasses), Unknown, Roger Ray. David Pearce, Raymond Marie (Mayor of La Ferrière), Barry Ray (back), Christine Pearce (blond), Helen Beard (black hair), Marie-France Prunier, Nora Ray, Joan Dick.
Select Open Document to view the full newspaper cutting.
View Large Version
Open Document
Picture added on 22 November 2016 at 15:53