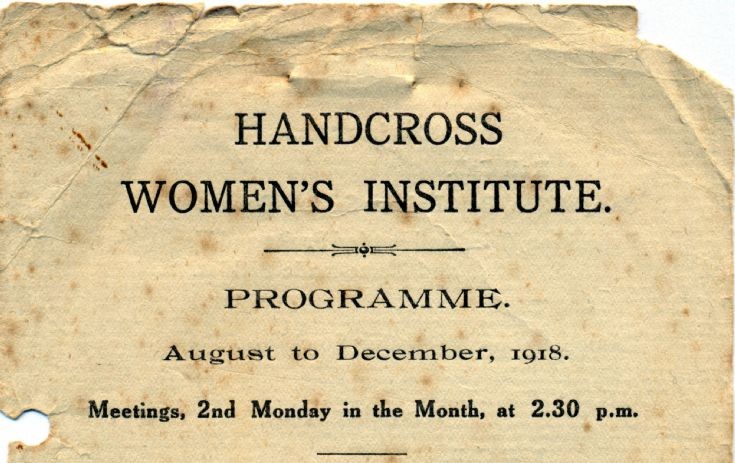 The Slaugham Archive
Handcross Women's Institute programmes 1918
The inaugural meeting of the Handcross Women's Institute was held in January 1918 and the members celebrated the 60th anniversary on 25th Jamuary 1978 by holding a Jubilee Dinner in the Parish Hall.
At the dinner each person received special facsimiles of the first programme which covered the months from February to July 1918, and also the programme for 1918 of the Sussex Women's Institutes. Also included was the menu for the evening of celebration.
Select Open Document to view these documents supplied by Mrs Elsie Cosens.
I am obliged to Jennie Pettit for supplying the programme for the remainder of 1918 from August to December which her grandmother, Mrs Harry Field had saved. It is charmingly tatty and I have not attempted to hide its creases and tears.
In October there was in demonstation on "re-footing stockings", a skill not to be sniffed at.
It is interesting to note that Rev. William Dengate, author of "Slaugham – A Parish in Sussex", gave a lecture on the history of the Parish. I wish I had been there.
Click on Large Version to view.
View Large Version
Open Document
Picture added on 22 December 2016 at 22:23