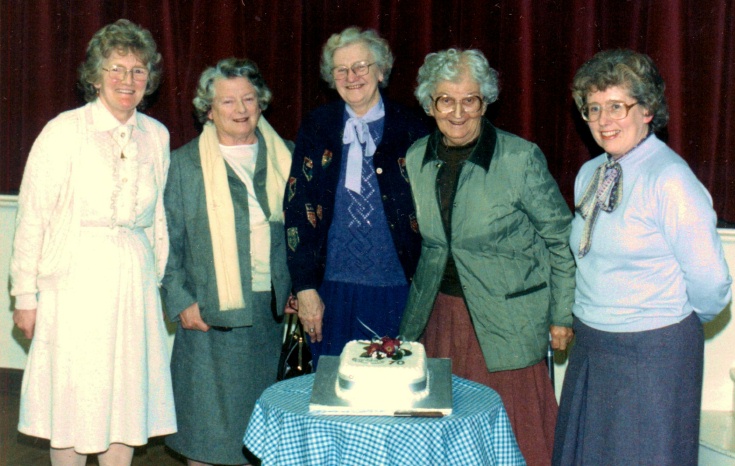 The Slaugham Archive
Handcross Women's Institute 70th anniversary
The Handcross Women's Institute celebrated its 70th anniversary in 1988 with a dinner and entertainment for members and friends in the Parish Hall.
During the previous week, the monthly meeting for Fenruary 1988 had taken place and five past, current, and future presidents gathered around the anniversary cake as it was cut. From the left they are Daphne Morgan (current president), Lady Isobel Dundas, Nora Ray, Hilda Abbott, and Pat Long.
Select Large Version to view a newspaper cutting.
Around this time Roger Ray wrote a short history of the W.I. for the parish magazine and this can be viewed by selecting Open Document.
His final comment "Long may they continue" is poignant as the Handcross W. I. was closed down in December 2015, almost 98 years after it was formed.
In recent years there has been a second Women's Institute operating in the village which caters for a somewhat younger generation which meets in the evening. As I write this, in December 2016, it seems most likely that this group of ladies is on the verge of pulling out of the Women's Institute organisation but will continue to operate as a more independent society.
View Large Version
Open Document
Picture added on 27 December 2016 at 12:34