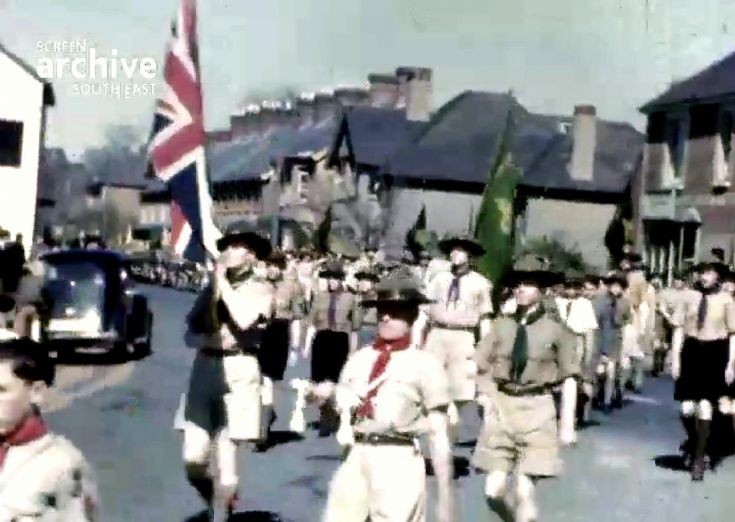 The Slaugham Archive
Scouts Guides Cubs in parade at Handcross (2 of 2)
This short video from 22nd April 1951 shows the St George's Day Parade in Handcross and lasts under two minutes.
The Scouts, Cubs and Guides from several local troops around Mid-Sussex have mustered, probably in the Recreation Ground, and are marching along the High Street and then down the Slaugham Park drive for a service at Slaugham church.
At the start of the video I think that on the extreme left I can see the burly figure of P.C. Steve Message wearing white gloves to deal with any traffic problems. I suspect that he was hoping to be in position when the parade turned right into Horsham Road, but they were too fast for him!
Opposite Roberts House is Wind Hills House where Walter Shearlock operated his shop, selling newspapers, toys, sweets and cigarettes, The sign over the shop window is just visible, but not readable.
As the parade turns to the right a police motorcyclist arrived to control the traffic, and a group of cyclists overtook the parade. The 1st Slaugham Troop are wearing the red and blue neckerchiefs.
To view the video on the Screen Archive South East website select "Links" at the top of this page and click on "Screen Archive – Film 9939". There is no sound.
Picture added on 07 January 2017 at 19:51